Shopping Cart
Your Cart is Empty
There was an error with PayPal
Click here to try again
Thank you for your business!
You should be receiving an order confirmation from Paypal shortly.
Exit Shopping Cart
Creating a meadow is not quite as easy as I originally thought! My first attempt is only now, four years later, beginning to look good. Last year's attempt – having learnt from my earlier mistakes – has been much more successful.
Firstly, we had the right soil – the spoil from the new big pond was heaped up on the little hill in bottom field. Although a few perennial weed seeds blew in, the soil was not the rich top humus of the field laden with grass and other seeds, but it was the poorer, deeper, flinty earth from at least one metre down. I had a little help from my friends to plant it – in fact it made for quite a party as we all danced around treading the seeds in!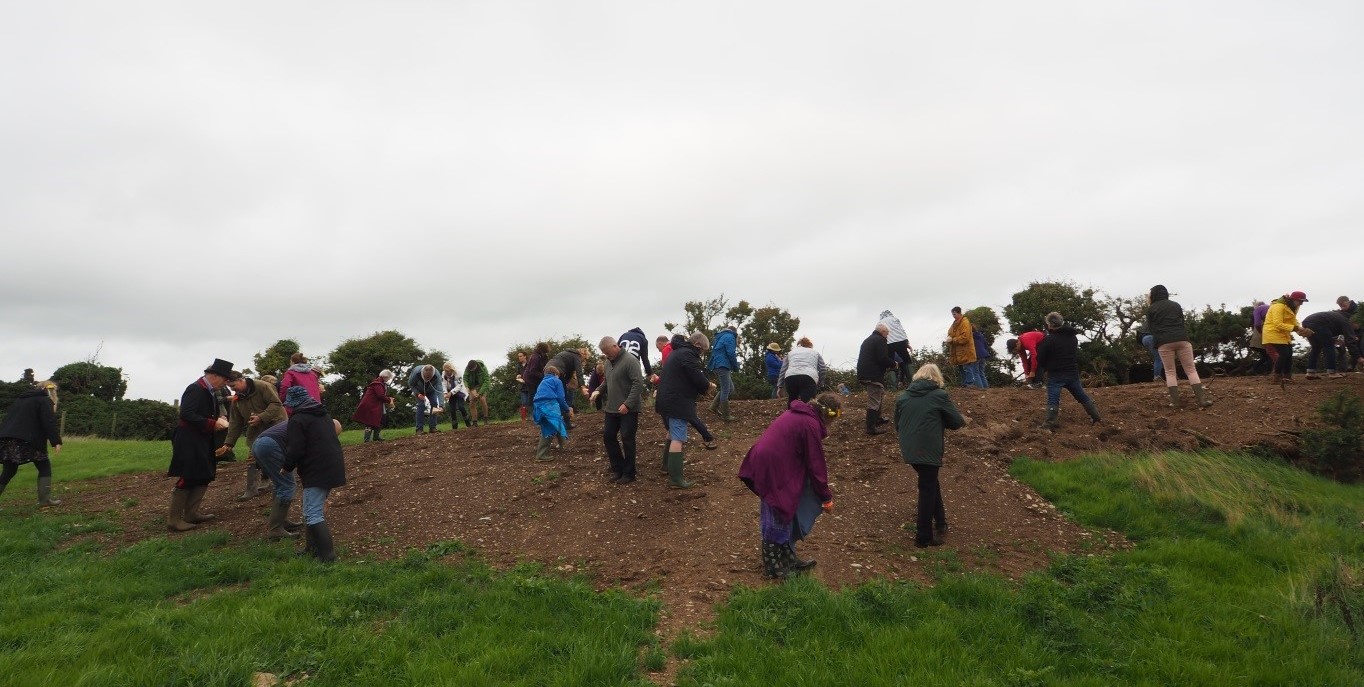 We followed the advice from the seed suppliers, Meadowmania, for sowing their Instant Sunshine Meadow Mix and around the edge of the future meadow we sowed a thick border of yellow rattle to try to hold the grass back – or at least weaken it. We sowed it in the last days of August, knowing that this was important to get the yellow rattle established and would get the other seeds off to a good start too. Yellow rattle needs the cold of winter to trigger it into germination.
It was really lovely over the winter – mild here as we are so near the Irish Sea – to see the plants begin to grow and by Easter the bare earth was a lush green.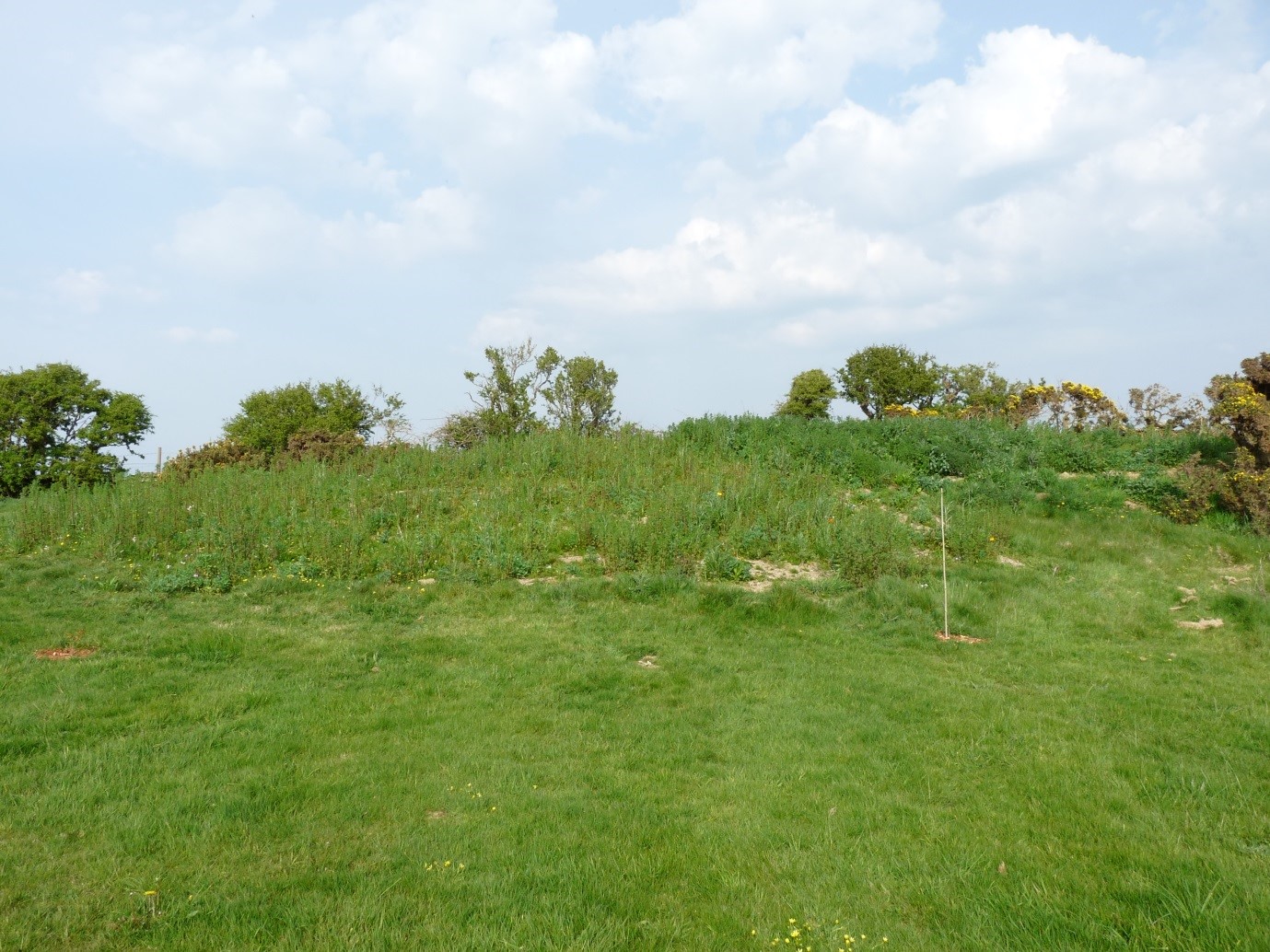 From then on I couldn't resist checking the meadow every day to see what new little flower had opened – such a great pleasure in the simplest of things! As the meadow started to flower, different colours dominated – the blue of cornflowers, the yellow of corn marigold, the white of ox-eye daisies, pops of bright orange and red poppies.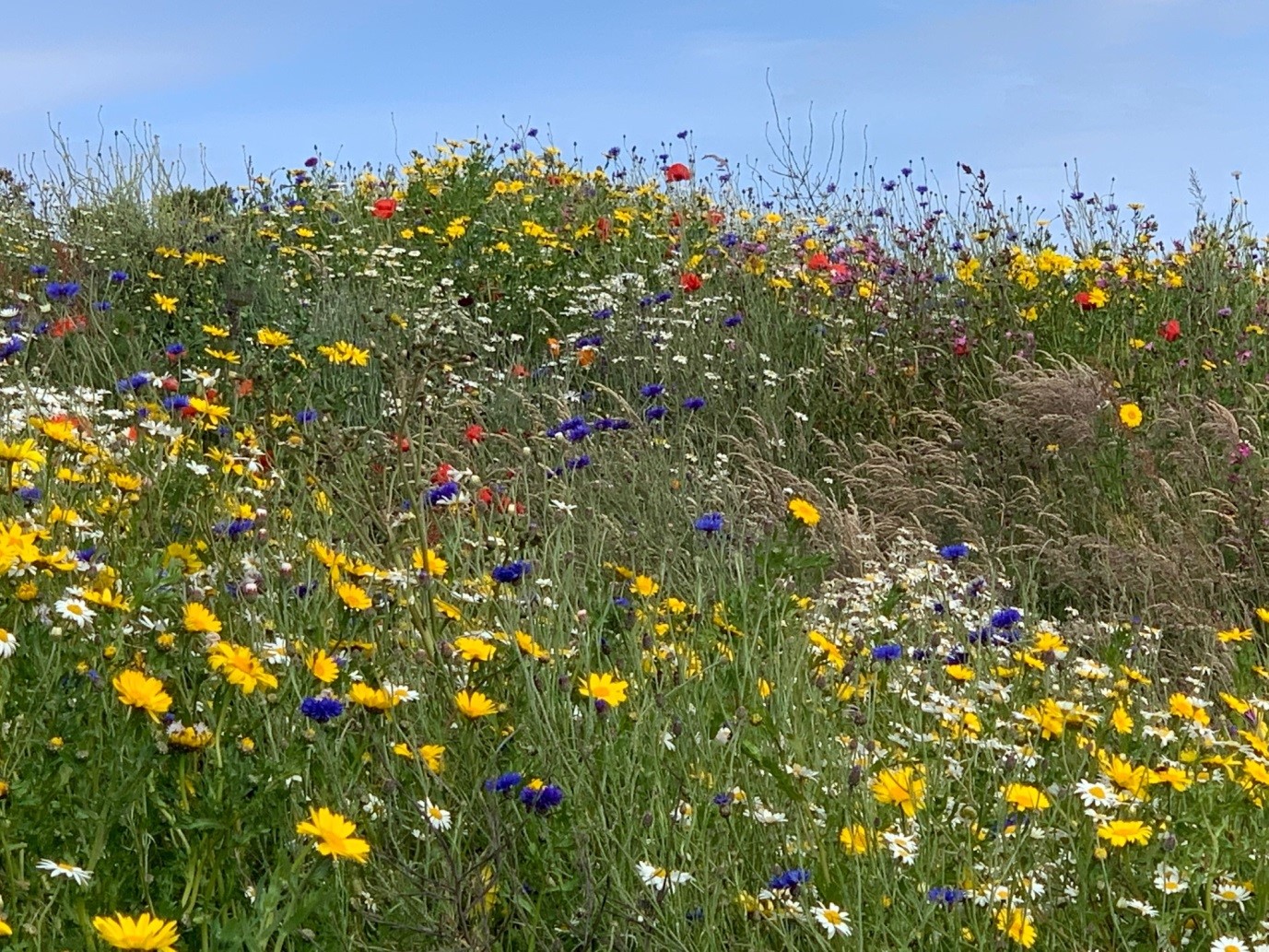 It's been great to see bees and other pollinators on the flowers. The pond where the soil came from has also been a great hit with wildlife – but that's a whole separate blog!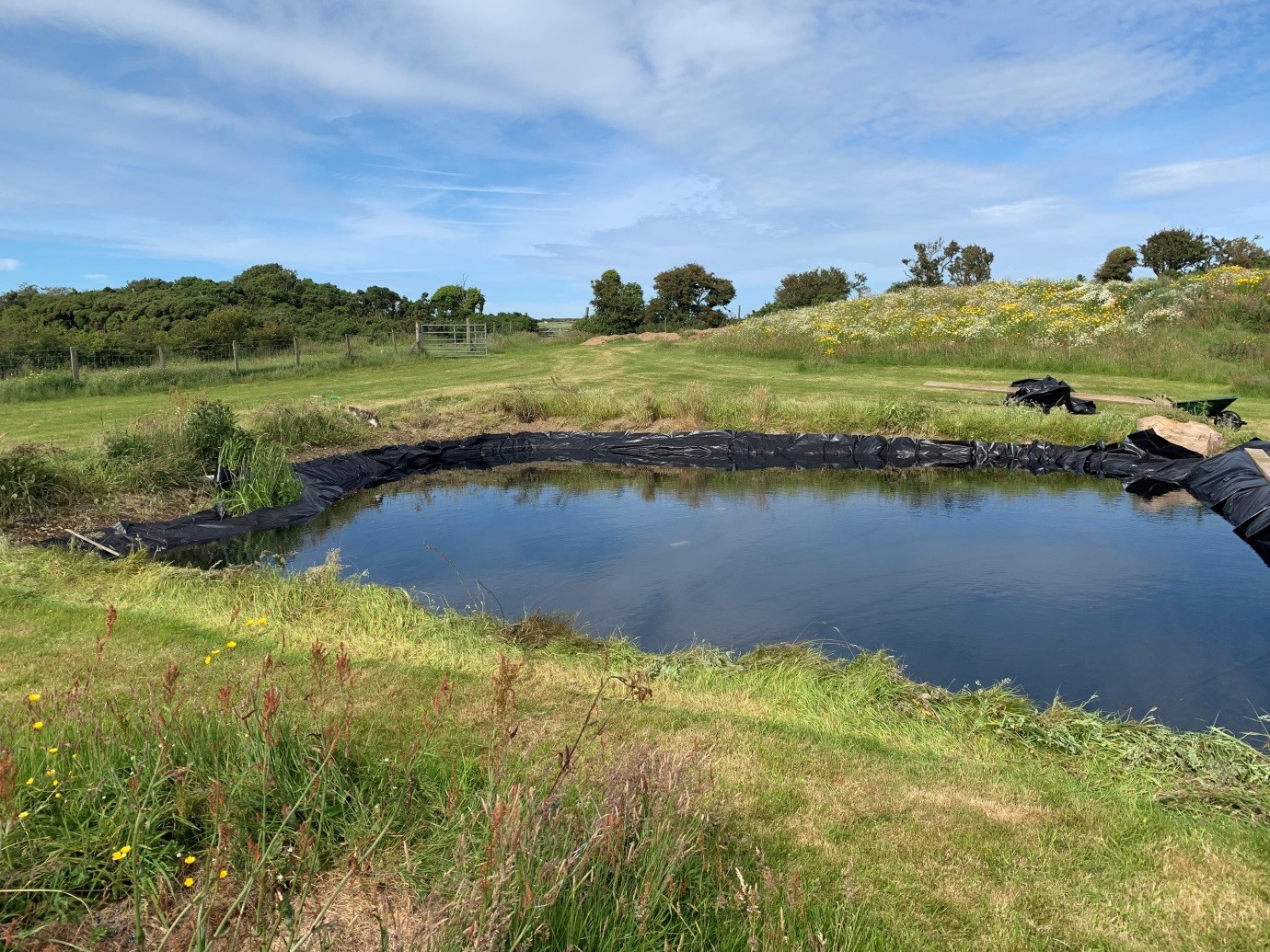 This field hasn't been grazed since early last year and we have left some parts unmown, as well as planting some trees (oak, hazel and willow) and other plants (snakeshead fritillary, mallow and angelica). In the unmown areas in this field and elsewhere around the smallholding it has been amazing to see what flora has been lurking unseen. We have spotted: native bluebells, foxgloves, alexanders, cow parsley, red campion, bird's foot trefoil, vetch, buttercups, dock, thistle, celandine, yarrow, cleavers, ribwort plantain, bindweed, ground ivy, dead nettle, lady's smock, common sorrel, lesser stitchwort, figwort… and that's just off the top of my head. So if a meadow is not possible in your garden, perhaps you could just leave an area unmown and see what emerges!
A huge thank you to Monya and Brian for helping put the bulk sack of seeds into small brown paper bags to hand out to people and to all my friends who helped sow the meadow! Happy memories!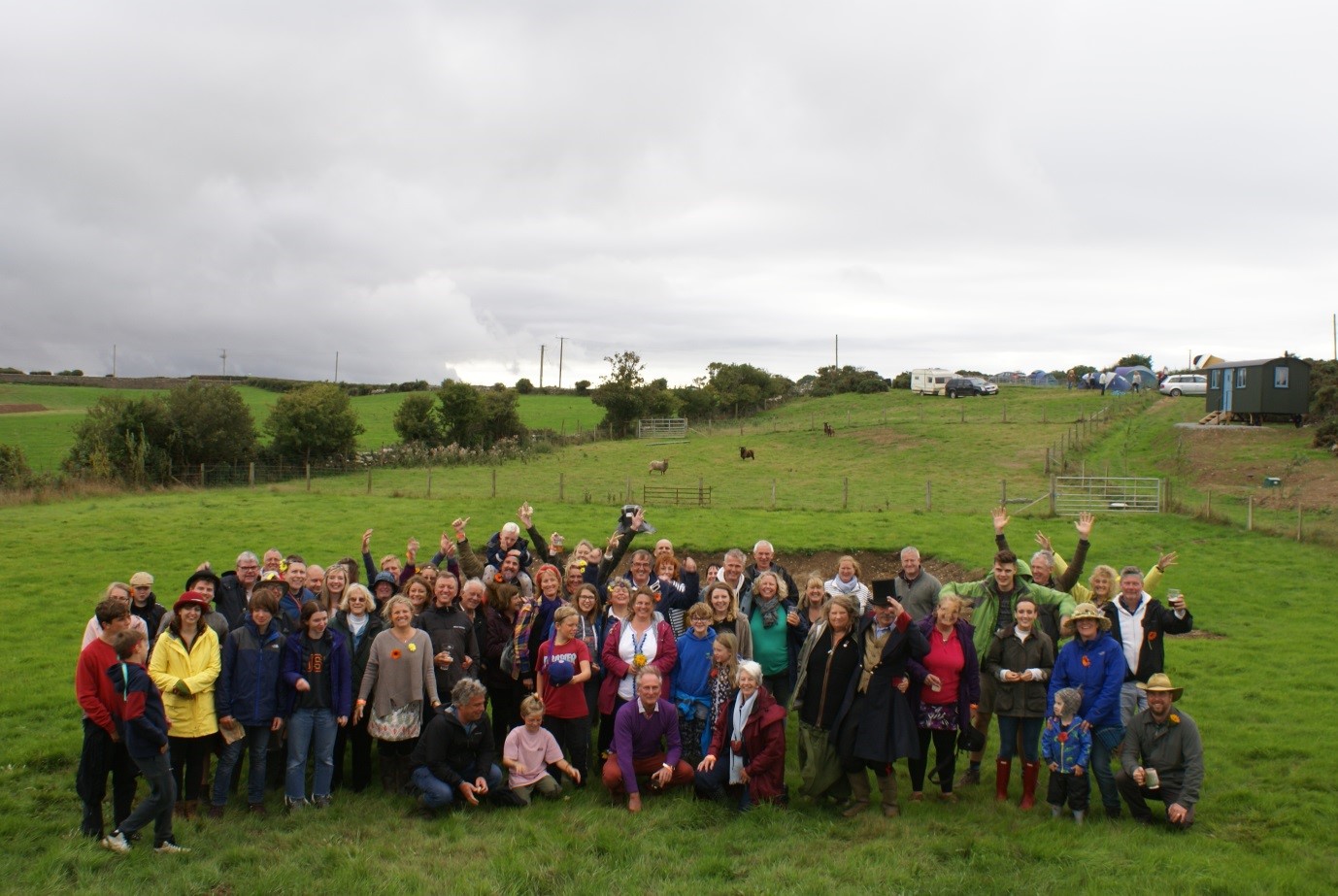 I knew there would be trenches – from the electricity pylon at the back on the house to the Shippon via the water supply and via the new Calor gas tank, from the Shippon to Hut 3, from Hut 3 to Hut 1, then down the hill to Hut 2, then further down the hill to the sewage treatment plant…
What never occurred to me (stupidly), was the spoil that would have to be put alongside the trenches. Getting to our store room or the hen house is now an extreme sport. What fun! I have only slipped in once (so far!).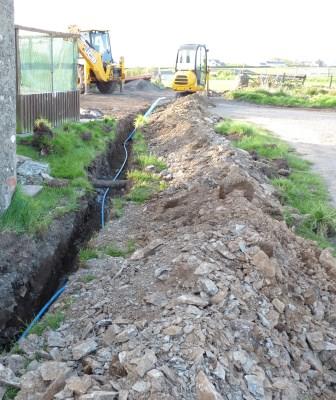 As many of our friends know, my husband loves to hire a little digger and this has been very handy on many occasions since we moved to Cae'r Bryniau: making holes for the polytunnel frame, clearing areas for shed bases, making a planting ditch for a hedge, creating ponds etc. However, having seen the exact and precise work of Gary on his bigger digger, I am not now sure how Nick will react. Will he give up, never hire another digger and just "get a man in"? Or will he have to hire one even more often to hone his skills?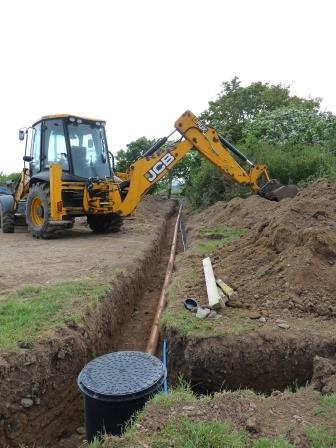 We have planning permission for three Huts, but are only putting two in at this stage. But we thought we'd get the bases ready for all three while we're at it. Hut 3 will go where the blackthorn thicket was by the parking area. This has meant digging trenches through the bedrock – hard and noisy work! The Calor gas tank is also going by the hen house, so more rock-breaking required.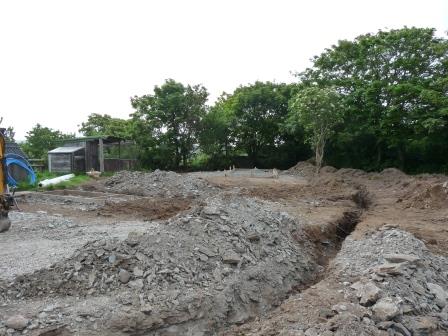 We're having Calor gas cookers and water heating in the Huts to take the pressure off the electricity supply, which means we should be able to run all three Huts at maximum capacity on one domestic electricity supply. The complexity of arranging all of this does now make me question our original decision not to go off grid…
So why did we take that decision? Firstly and perhaps most importantly – the loo. Believe me, I looked into compost toilets of many types. It would/should have been the green way to go (if you'll pardon the pun!). But, the potential downsides (use your imagination) of such a facility in a small Hut would, I believe, have had a detrimental effect on the holiday experience… Of course we could have put the loo in another building/hut nearby…but I am of the mind that an ensuite is not a luxury on holiday and I am sure that many of our future guests would agree. So a water supply was needed. Plus electricity for the sewage treatment plant.
The biggest dilemma was whether to have wood burners in the Huts. The charm and romance of cuddling up in front of a fire was, in the end, outweighed by two things: fire risk and no fire risk. Let me explain. The former is quite obvious once you have heard a few tales of other people's Shepherd's Huts guests: e.g. putting too much wood in the burner, getting too hot, taking a log out and putting it on the floor… The latter is the risk of guests being cold and therefore grumpy. As part of our research we stayed in a Shepherd's Huts in midwinter. It was a beautiful weekend – cold, crisp and absolutely no wind. No draft at all. In order to get the wood burner to draw we had to keep the Hut door open, which made us even colder. Brrrr!
There's also the problem of needing just a little heat on a chilly summer's evening, when a fire would be overkill. So we have gone for very unglamorous but supremely functional electric wall heaters. Don't worry though - there will be enough burning opportunities outside the Huts with all sorts of fire pits and barbecues to keep even the most ardent pyromaniac happy!
Enough witter for now. But let me leave you with a picture to hint at what my next blog will be about: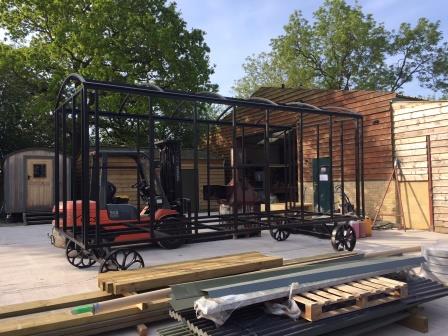 This morning was one of those glorious sunny, misty ones which just makes your heart sing and also makes you wish you were Keats so you could write it all down mellifluously. It was so stunningly gorgeous that, after I'd fed the animals, I grabbed my camera to attempt to capture the essence of the sunshine on the dew and especially on the glistening cobwebs.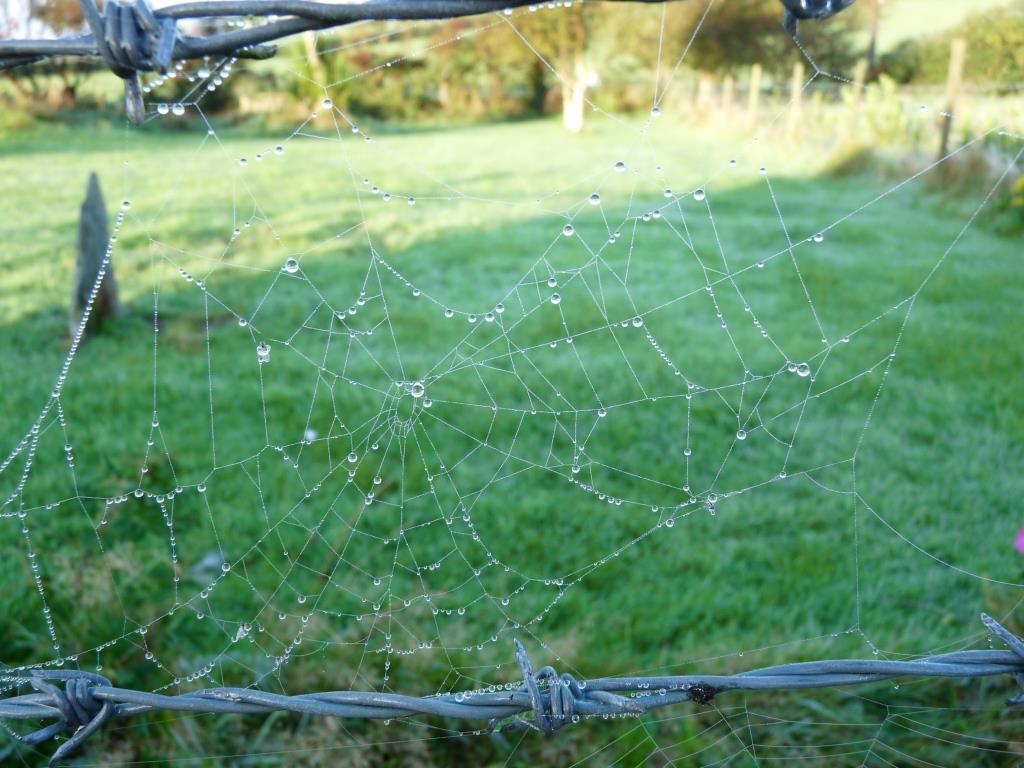 I have regular encounters with cobwebs in the mornings. I know where the usual suspects are: across the shippon door, across the chicken run and everywhere in the polytunnel. So I have developed a sort of Cobweb Tai Chi arm waving movement I perform, normally armed with a bucket of pellets or a hose pipe, to cut through the silken webs with my implements – rather than getting a faceful…It's a good thing only the cats are watching!
The webs on Gorse Hill this morning were silver filigree bedecked with diamonds – and those diamonds dazzled with all the colours of the rainbow but especially a yellowy gold. My photos have not done justice to the scene, but you can get the idea.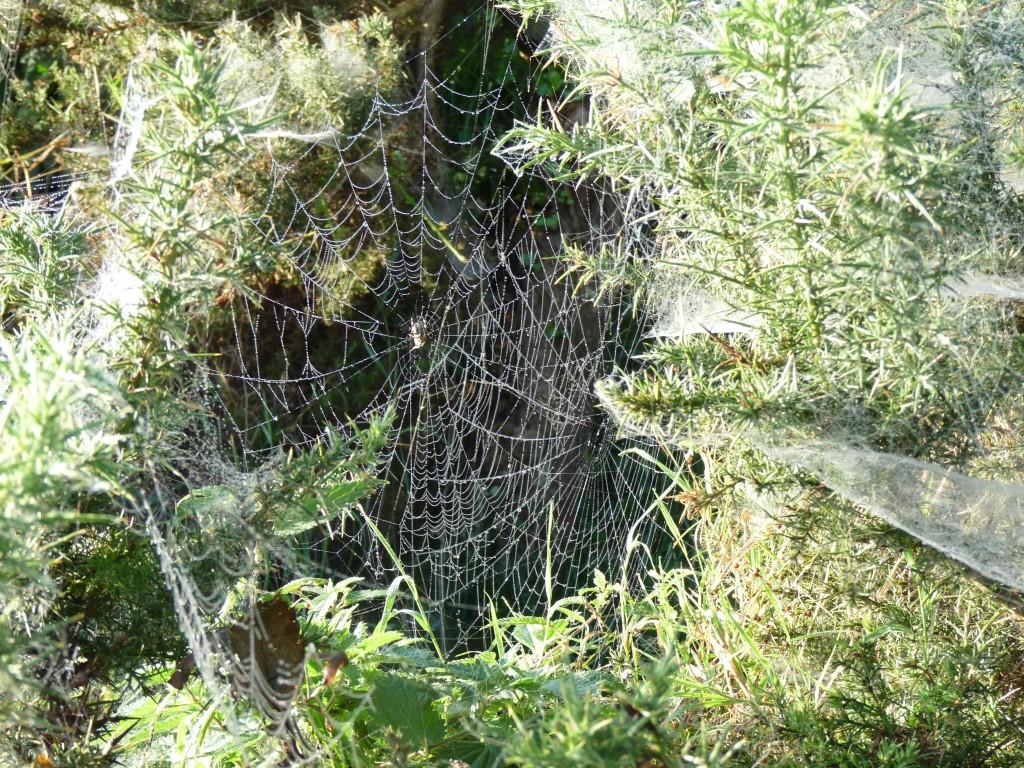 The grass was sparkling too, heavy with droplets of dew, and provided Barbara, our Black Lab, with her favourite drink. She's a nightmare to walk on mornings like this as she just wants to stop to lap up the dew. All the fences were dripping with jewel-like drops and the low sun showed every contour on the sheep's horns.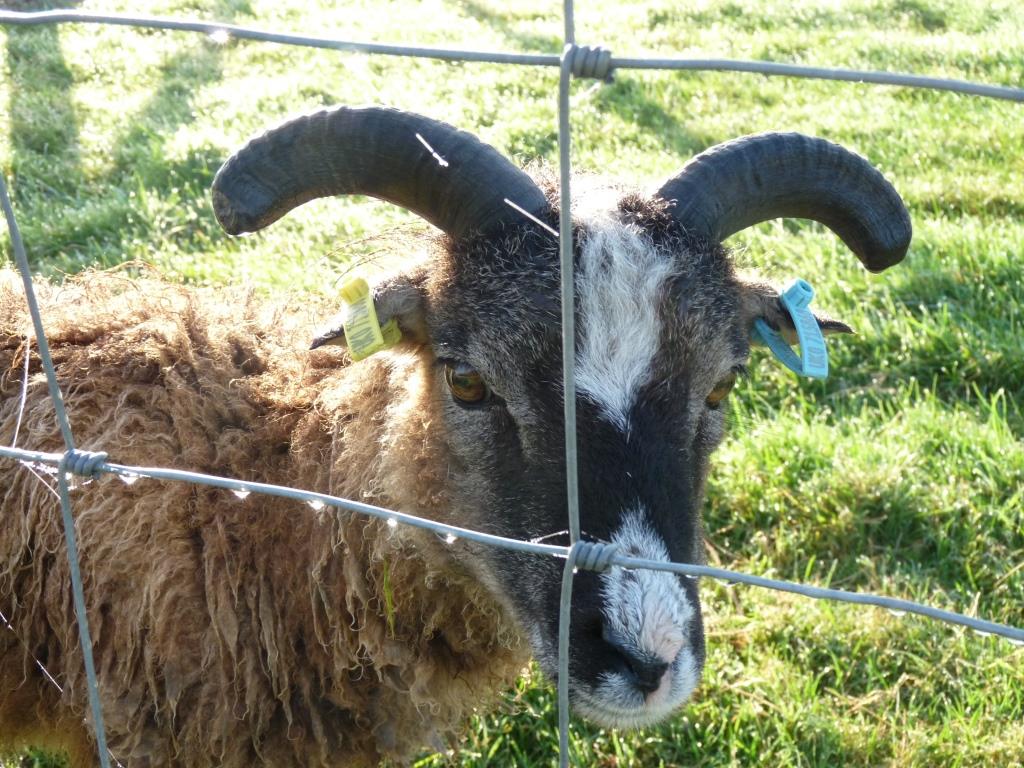 The bright red of the haws and the yellow browns of the sycamore leaves were all enriched by the rising sun and the laden boughs of the apple trees were almost visibly ripening in the intense morning sunlight. So often I find the sun seems to be strongest first thing in the morning, waking the world up and giving us the energy to get going.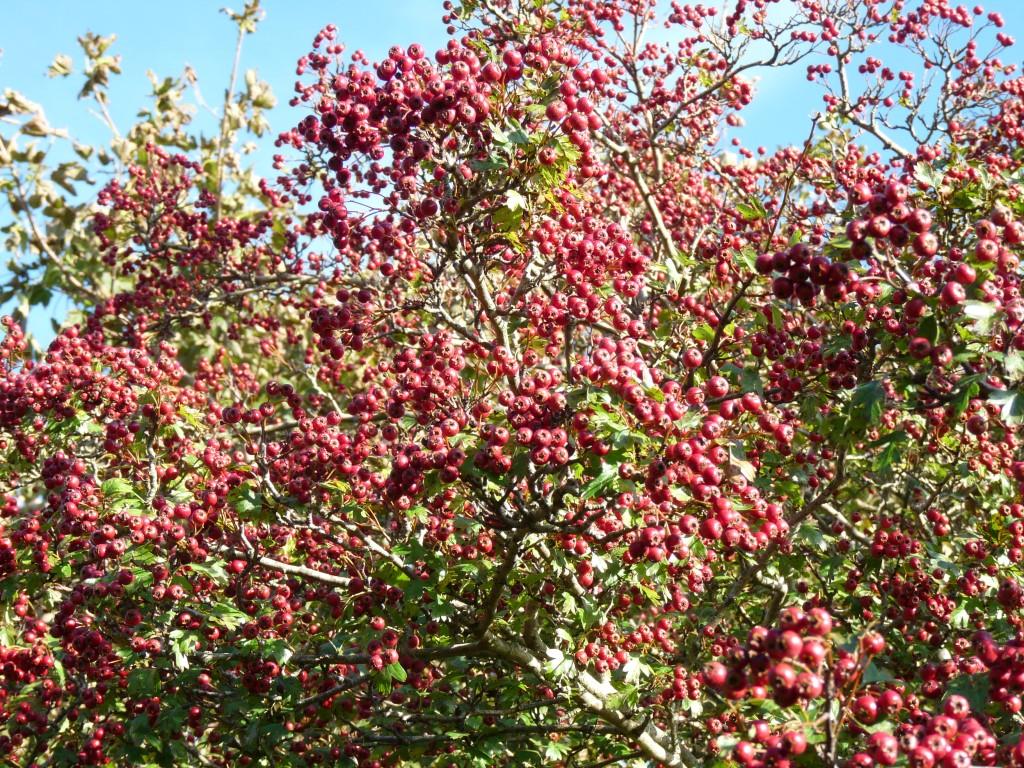 On a walk a few days ago (to the fabulous burial chamber, Bryn Celli Ddu), our path was strewn with crab apple windfalls so we all picked up as many as we could and stuffed them into pockets and carried handfuls back to the car. Over the wet weekend we've just had, I have been reading recipes to decide how best to use them. I think rosehip and crab apple jelly shall be the thing – so let me arise and go now, go to the bountiful hedgerow…
As I stepped outside this morning, the chill air made me zip my fleece all the way up to my chin. Autumn is icumin in and Nature is showing us how to survive the seasonal challenges by displaying Vitamin C everywhere: blackberries, sloes, rosehips, wild plums and haws in the hedgerows; plums and apples ripe and really ready to eat in the orchard, with pears to follow very soon; blueberries in the fruit cage and a glorious canopy of grapes in the polytunnel.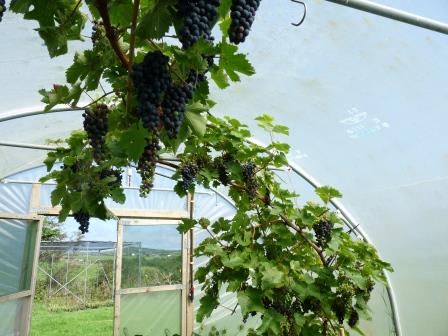 The only problem is that one can only eat so much fresh fruit a day, so now we need to work out how to best store all of this bounty. Some ways are easy and obvious: plums, grapes and berries freeze well as they are. Nick has also been baking some sweet treats – this weekend it was Monica Galletti's blackberry and apple bake. Positively yummy!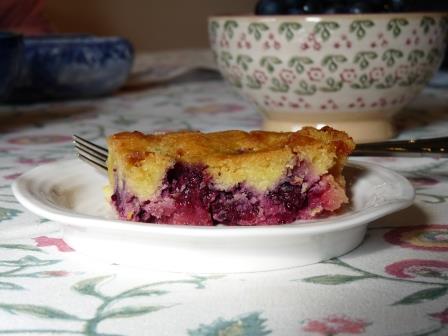 Fruit compote's great for breakfast with yoghurt or on porridge, so that's another quite quick solution. A much more time-consuming task is the making of jellies – but it's oh so well worth the wait. Bramble jelly has to be one of the Seven Wonders of the Preserving World. A B&B guest asked earlier this year if we sold it by the jar. I just politely said that we didn't, rather than explaining that it was in fact priceless. The time spent picking the berries, cooking them, letting the gorgeous juice drip drip drip overnight before boiling it fast with sugar, testing for a set, bottling it all up and labelling it, and finally squirrelling it away in the larder – all of this time and process is not for sale. It is a joyful, intense labour of love for perhaps five jars!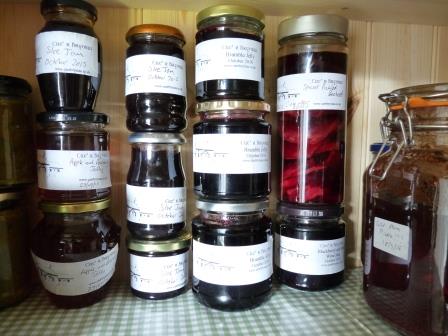 The hours spent picking blackberries are some of my favourite of the whole year. It takes complete mindfulness to select the ripest, but not mushy, berries and to avoid getting stung by nettles or scratched by brambles, blackthorn et cetera. The first berries are the best: the biggest, the sweetest, the juiciest. They lead the way at the front of the cluster and demand to be picked, completely irresistible. Many seem to reach my mouth rather than the collecting bowl.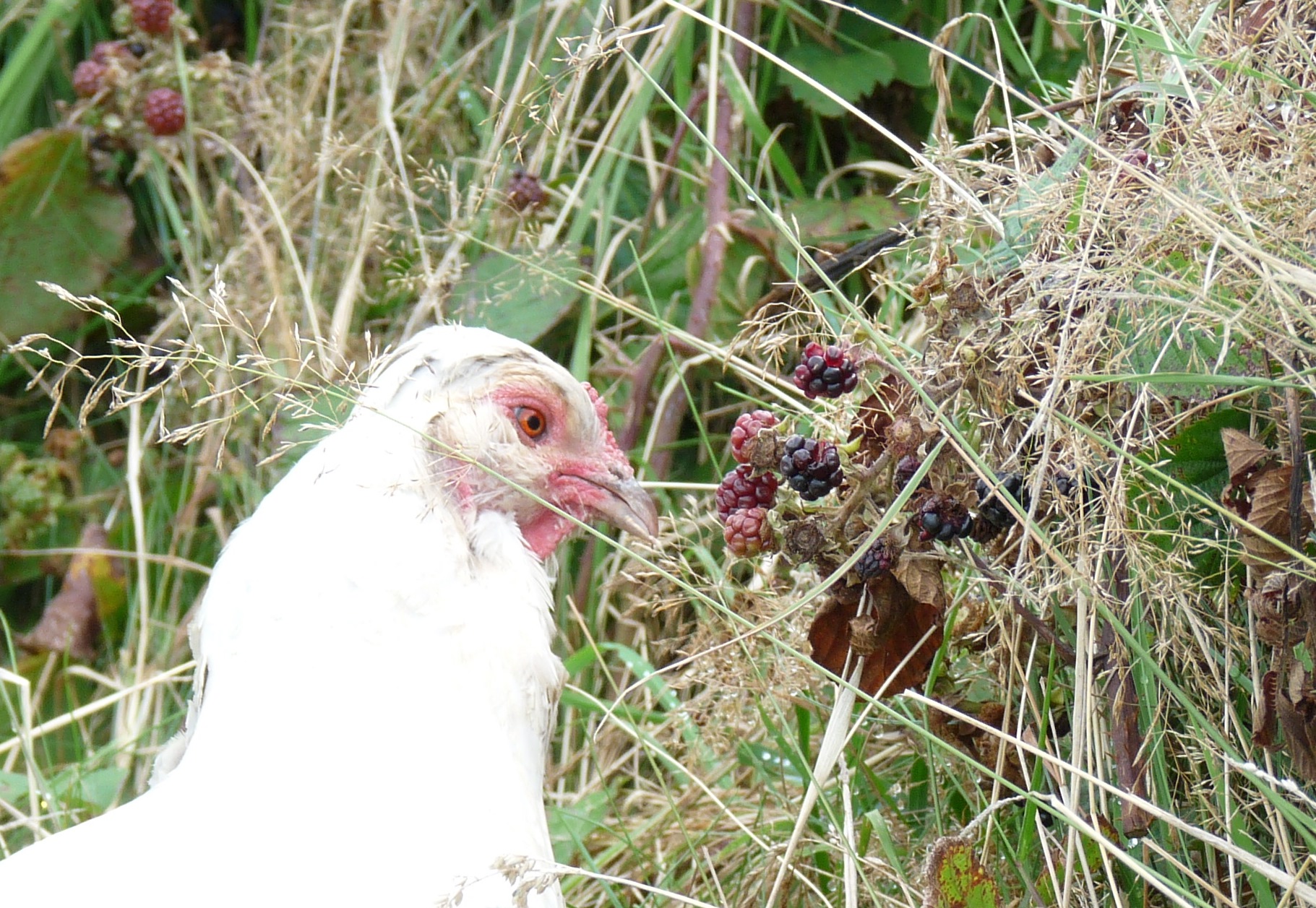 We do get some help with the fruit glut. The hens head straight for the orchard as soon as they are let out in the mornings and any windfalls they don't deal with are given to the pigs as a little treat with their supper. The hens also help themselves to the blackberries they can reach and, if they realise I am off to pick fruit, I have a little retinue of feathered friends following me. Then there are the Labradors, who will hoover up tiny wild plums en passant… and then, of course, there will be consequences.
Harvesting fruit is a timeless act. Hunter gatherers stopped up the hill from here in Neolithic times. Archaeologists excavating the site of the new school in Llanfaethlu found that this was one of Man's earliest permanent settlements in Wales. Picking blackberries today, I can't help but feel connected - not just with our forebears but with the natural rhythm of the World.
August used to be one of the quieter months for me, not now! If you aren't absolutely on the ball at this time of year, you find that you've missed the moment to pick those lovely little courgettes and you now have marrows. Or the perhaps plums, which were rock hard last time you checked, have all shrivelled up or dropped off the tree and are now feeding the slugs.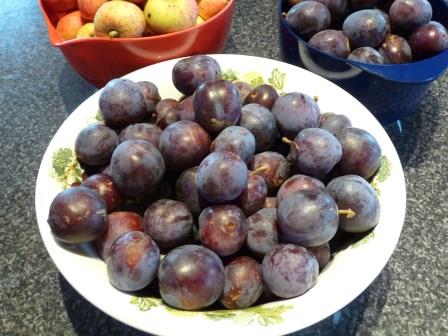 Slugs. There's a topic! Are they getting bigger? They certainly seem to be more prolific than ever. My sunflowers were their first victims this year. I sowed trays and trays of them; my main aim was to have them for cutting for the guest rooms, secondly to encourage bees and other insects, thirdly just because I love them.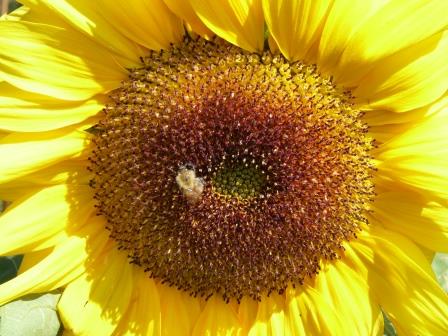 When all the seeds germinated, I really thought we might have enough to spare to try to eat some of the buds, which apparently are lovely fried with a little butter. Well, I still don't know if they are or not. After planting my seedlings out, the slugs struck.
Every morning more had gone. Last year I discovered that crushed egg shells don't work nor does wool (this was in The Slug Dahlia War). Copper rings/tape do – for a while. You have to keep them clean. If the copper gets a film of soil or dust on it, over the slimey so-and so's go! So this year I reluctantly bought some pellets, certified for organic use. They work ok, but you have to be super vigilant and re-apply more often than I did…
So eventually I was down to about a dozen sunflowers which had somehow managed to form a bud and were far too precious to eat. These survivors are beautiful, but they have to be cut only after careful consideration and displayed in single stem vases, rather than in the abundant Van Gogh style I had envisaged.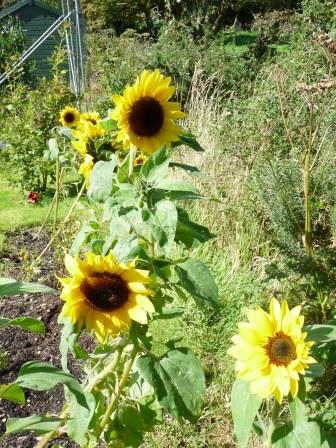 It's not just in The Valley (our kitchen garden) where I battle the goo-oozing gastropods. They have a particular penchant for gathering under the hens' drinkers. At the moment, it's often about 6.30am when I give the hens their crumble and let them out of the run. If you know me, you will know this is not my peak time…
Imagine, if you will, a rather sleepy Suzi picking up an empty drinker, taking it to the tap, putting her hand on the red base to unscrew it and getting a handful of slug as well. It generally wakes me up quite quickly. I try not to scream – as it's not the sound our B&B guests want to be roused by. You'd think I would learn!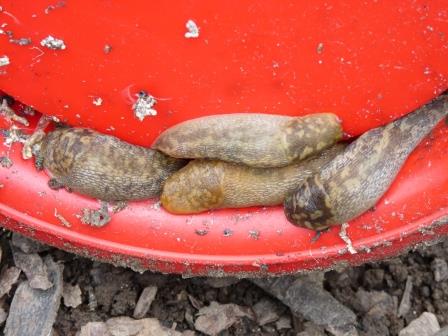 Bore da! As the weather is ofnadwy today, I am writing this to avoid doing all those indoor jobs I just love – cleaning, ironing, filing…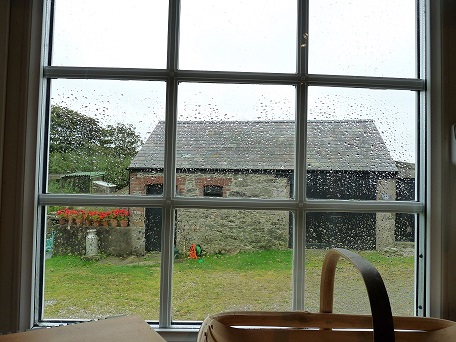 After my mentioning pigs' ears in last week's post, I was getting myself in a tangle with some chicken wire (trying to protect young plants from Labradors rather than chickens, though!) and said to myself that I was making a real pig's ear of it. So as I undid it all and started again, I wondered why a pig's ear is making a mess of something.
My initial thought was that a pig's ear isn't messy – sometimes it's dusty or muddy and, on rare occasions, sunburnt – but not untidy. Perhaps then it refers to an old method, pre- tagging days, of marking animals by making a notch on the edge of their ears? Apparently not! Having failed to find an answer in my beloved Brewer (Dictionary of Phrase and Fable) and a plethora of other dictionaries, I turned reluctantly to the internet.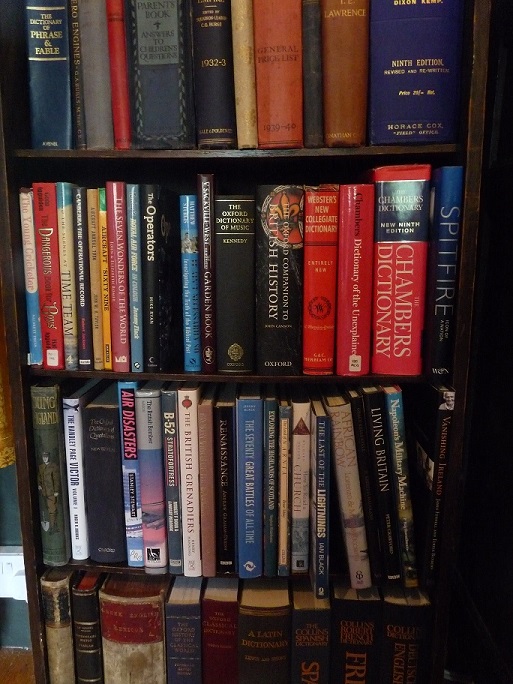 It seems that no one really KNOWS where the phrase came from. It was first seen in print in the 1950's but that's about it. The general guesswork consensus is that it comes from the very old saying "You can't make a silk purse out of a sow's ear". Brewer (yes, the good old book worked this time) gives a quote from Peter Pindar (the pseudonym of 18th century satirist Tom Wolcot):
"You cannot make, my lord, I fear,
A velvet purse of a sow's ear."
So the thinking goes that if you've made a mess of something, you haven't made a silk or velvet purse, instead you have made a pig's ear. Apparently. Not sure I am completely happy with this answer, so if you have any better thoughts, please share them!
All a bit too academic, this blog isn't it? I shall lower the tone dramatically then by talking about pigs and their poo. I want to speak up for these animals who are often referred to as dirty. In my (ok, still quite limited) experience, pigs have fastidious toilet habits. They keep their ark clean and use the perimeter of their enclosure, as far as they can go away from their bed, to do their business.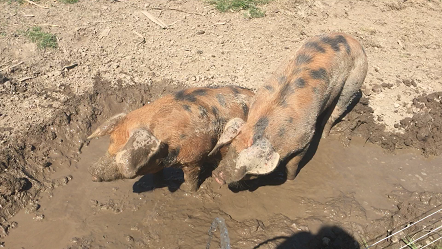 Pigs love having a MUD bath when it's hot and we often make a wallow for ours. People have confused this natural way of them screening their skin from the sun with them rolling in poo. The expression "Happy as a pig in s***" is completely erroneous.
But I suppose many of our phrases do come from observing animal behaviour. Our hens have a clear pecking order. Busy bees work hard flying from flower to flower and as for what the cat's dragged in, don't ask! However, a dog's life looks quite good to me!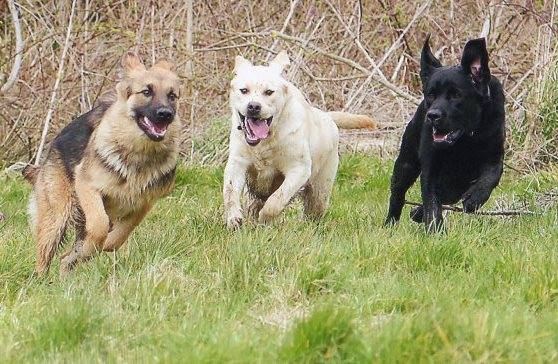 As Nick has taken on quite a lot of work off the island at the moment, I thought I'd try my hand at updating our blog.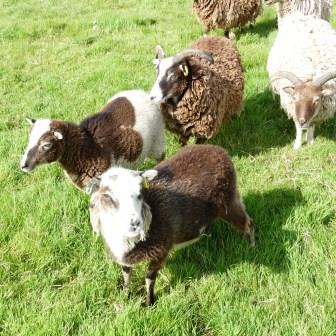 Lovely guests, on Ynys Môn for the Eisteddfod, left yesterday morning and, with no-one booked in for a few days as Nick is away, I have the joy of being able to choose what to do today. Of course, that's after the regular chores… for those of you who haven't visited us (yet!) these include…
Morning & afternoon feeding and checking on the animals: 2 pigs, 10 hens, 20 Soay sheep, 3 cats and 2 dogs. This is quite often a delight, as it was this morning - with the sun breaking through the clouds, the birds tweeting and the friendliest sheep coming up to give me a gentle "Bore da!" nudge.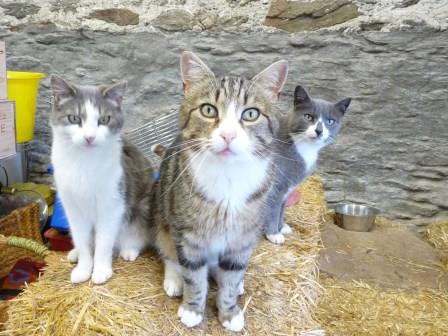 I moved the boy sheep from Bottom to Middle Field which intrigued the pigs who are in Top. They galloped down to the fence to see their new neighbours, or rather to try to see them. They have gloriously floppy ears which hang right over their eyes, giving them natural blinkers. The boy sheep, not having been on this territory for about three weeks, obviously needed to do some male "I'm in charge here!" thing as there was a lot of head butting and prancing around. This seemed to scare the poor piggies who dashed back up to the top of the hill and the safety of their hideout under the gorse.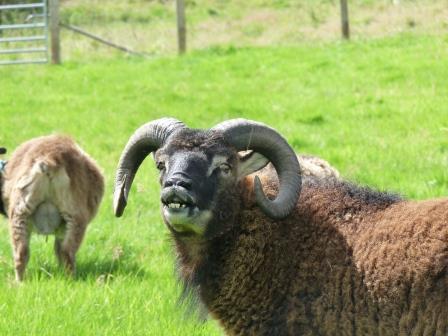 Pigs at speed. I never realised how fast a pig can run until we kept our own. As we are lucky to have the space (and land that needs clearing), all of our pigs over the last three years have had a small field to call home. They have an ark and a small enclosure around it whence they retire at bedtime or for their afternoon siesta, but otherwise they roam around, rootlin' and a-tootlin', digging up tasty roots, finding a tree to scratch their backs on or a nice bit of mud to cool off in. How great for them to have all this freedom! Then I arrive with a bucket of food for them. They don't generally see me coming (note above) but they know what the metallic click of the gate opening means. It's their starting pistol.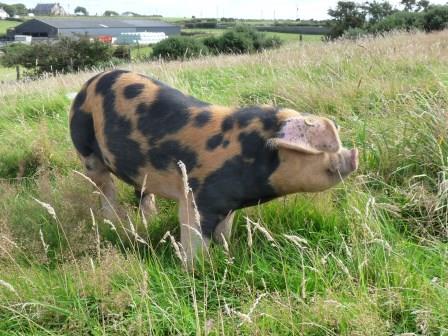 If there's nothing between you and the hurtling hogs, it can be a little unnerving. Their braking system is unpredictable and generally involves stopping by means of shoving head into bucket – because surely the bucket will stay still and the person holding it won't be bulldozed over?
One of last year's pigs thought nothing of crashing straight through the live electric fence at feeding time, or when she fancied snacking on windfall plums. However, getting her back over a turned off fence was a challenge and we probably should have videoed it for the amusement of our nearest and dearest. Our animal handling skills are improving – really! OK, so the progress is still a bit slow in some areas.
Wow, I have deviated from the daily chores, so at the risk of being a bore, I shall sign off for today and tell you about the delights of B&B laundry another time! Ta ra rwan!
 
Hello!
This posting coincides with two things – the start of Spring and secondly and more importantly the publication of our little video.
When looking to show what Cae'r Bryniau has to offer, we decided that something more active than just photos would give a better impression. Through the great offices of Hi-impact Media (http://www.hi-impact.media/) we now have a fabulous short film telling more about us.
As far as the B&B launch is concerned, we are getting close. Once the legal paperwork (food hygiene, licensing, etc) is done we should be launching next month. Watch this space.
Spring has sprung!
It is so nice to get through the winter and welcome in the spring. It has been a wet and warm winter, with barely a frost to kill off the bugs. After all the rain our lane is just about dry and no longer a quagmire. Having planted a lot of trees and hedging we did spend an awful lot of the winter covered in mud and soaked to the skin. It will be worth it, though. We are turning part of one field into an area of woodland, with Scots Pine, Beech, Oak and Hornbeam planted as well as willow as a wind break.
The pond is nearly complete and planted up (see January's entry). We also have new benches and chairs and a table to enable our guests to enjoy the views.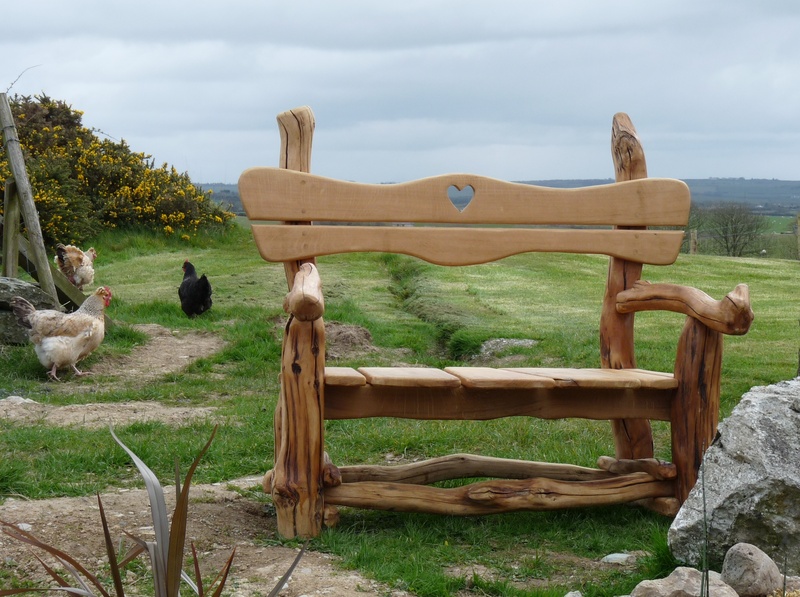 On the livestock front we have two new arrivals. They are numbers 3 and 4, two more Oxford Sandy and Black piglets; both gilts this time. They have settled well into their new home and are rapidly turning the field into a mud bath!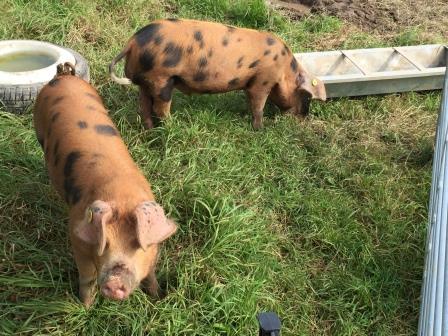 Tom and Barbara continue to rule our lives. Dog training classes are going as well as can be expected with two hyper Labradors! They do love their play dates with Zara the Alsation, though!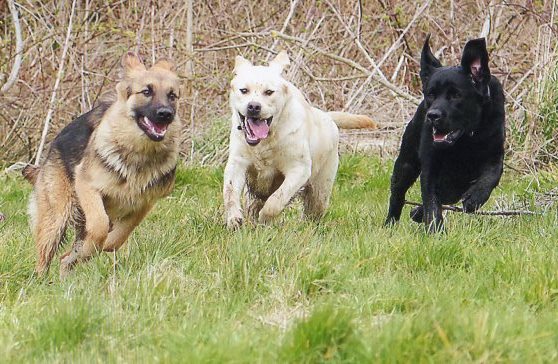 We have had a rare trip away from Cae'r Bryniau in the last few weeks when we were able to share a wonderful wedding day with Katrina and Nigel in York. Thank you so much for inviting us!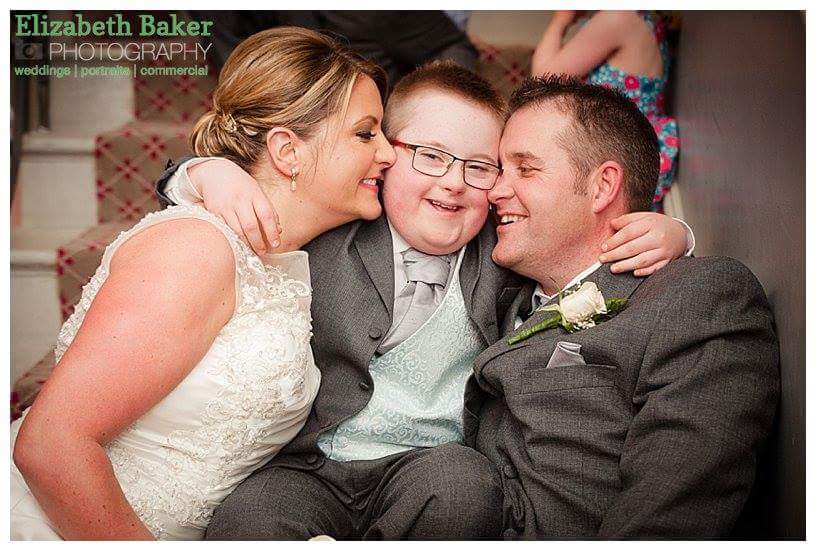 This last week saw another momentous stage in our plans, as Suzi launched Tonic for the Senses at Cae'r Bryniau. Please visit  http://www.tonicforthesenses.com for full details. 
After what seems an age the weather has abated and the pond (see the last entry) is receding. The livestock are all well. We have split some of the the male Soays from the rest of the herd, ready for Felix (our only 'complete' ram) to be introduced to new ladies. After a lot of bleating they have settled well into their new field.
As we head towards the Spring thoughts are also turning to produce and the polytunnel is coming out of the winter's slumber. there are already cabbages, greens and other brassicas growing as well as garlic and onions. It is a bit of a miracle that it survived the storms, but the solid tunnel from http://firsttunnels.co.uk, has stood up to Storms Eva, Desmond and whoever else has been thrown at us!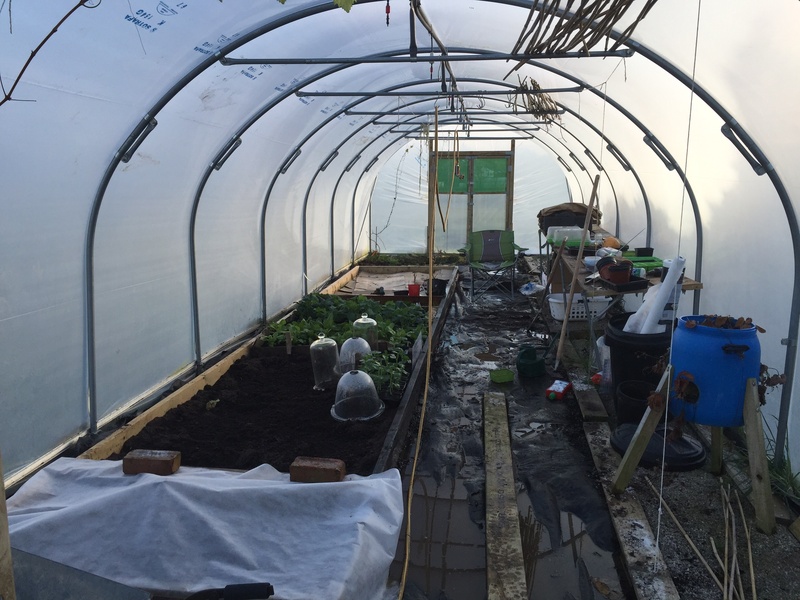 On a personal front this week we have seen the loss of David Bowie, Alan Rickman and Ed Stewart, all of whom have been part of our ,lives. RIP all. My favourite Bowie album was Heroes - Suzi's was Changes 1. One of our favourite things to do in the evening at Cae'r Bryniau is to light a fire in the library and play our vinyl records. The last Bowie album is order - on vinyl.
Blwyddyn Newydd Dda - Happy New Year!
We have been battered by some extreme weather this last few weeks. As I was told in the shop the other day, it has been 43 days of non-stop rain. Luckily we have had some respite in the last few days. Ok, there has been rain but not to the extent we have seen. The decision of the Met Office to name storms has coincided with us being battered by Storms Desmond and Eva in particular. Anglesey does benefit from mixed weather. The rainfall keeps the place lush and verdant so we have to stick with it. We wouldn't live anywhere else.
The weather has, however, changed the landscape somewhat. We now have a stream in the big field and a pond by the drive.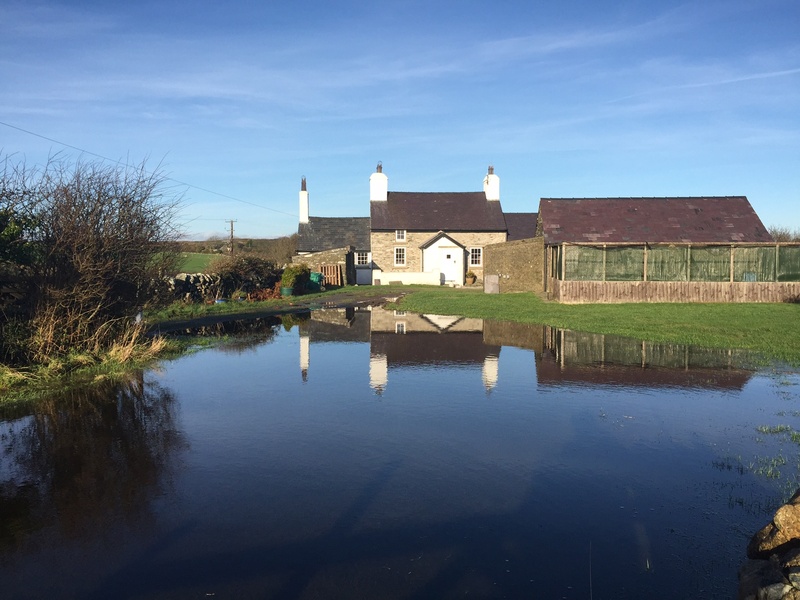 In fact the new pond (it is only a few inches deep at the moment) has given us an idea to make that a proper pond, partly to act as a sump in times of heavy rain, but also as it is so pretty! The birds love it!
Christmas has seen a period of quiet reflection at Cae'r Bryniau, a chance to review our progress and look forward to the opening of the Bed and Breakfast. Apart from that, we had a lovely time, with friends and family over the fortnight. Tom and Barbara were somewhat confused by the decorations - especially the five foot dancing Father Christmas - as the video below shows.
The Welsh classes are going well, too, but it is a tough language and takes some concentration. Well worth the effort, though.
Keep watching for the latest, but Suzi, Tom and Barbara and the rest of the menagerie join me in wishing you all a very healthy and prosperous 2016.
/