Shopping Cart
Your Cart is Empty
There was an error with PayPal
Click here to try again
Thank you for your business!
You should be receiving an order confirmation from Paypal shortly.
Exit Shopping Cart
When we decided to keep pigs, it was for only one reason – to produce meat for the B&B. We thought it would be easy. Stick them in the field and after a few months send them to the butcher and bacon will arrive.
How wrong we were. Numbers One and Two, the first of the bunch, were a pair of boar weaners, bought from a smallholder we found through the Oxford Sandy and Black Society website. We had done a smallholding course with Farmer Rob at Cwmcrwth Farm (http://www.cwmcrwthfarm.co.uk/) and learned about handling pigs, tagging, injecting and caring for them, so we thought we were ready.
Getting the piglets was easy, although their squealing as they were loaded into the trailer was unnerving. Feeding the pigs was easy (while they were little) and getting them booked in for slaughter was also easy. Even the Pig Movement paperwork was easy.
Not so the transport to the abattoir. We had not expected that the delivery of our lively, characterful and LARGE pigs would be such a challenge. Challenging, yes. Challenging getting them into the trailer, challenging backing the laden pantechnicon up a slope to the abattoir and even worse, saying goodbye. Without realising it these sources of scrumptious bacon and sausages had stolen our hearts.
Fast forward two years and this last week we have delivered Numbers Five and Six to the butcher. This time a different butcher; Ifan and Iwan at E T Jones, Sons and Daughter (http://etjonesbutchers.co.uk/), who will slaughter rare breeds for breeders' personal use. One of the most upsetting aspects to the final journey by Numbers One to Four was the transport off Anglesey to the mainland, with a two-hour trip in the trailer. Numbers Five and Six had only been in the trailer for twenty minutes to get them to Cae'r Bryniau and an even shorter trip for their final journey.
The whole experience was as pleasant as it could be and yet, even with the years of experience under the belt, it was one of the hardest things to do. Numbers Five and Six, gilts this time, had superb characters and were a heart-warming sight, running across their field with ears flapping, like wannabe Dumbos, trying to catch the wind. Mind you, as Bill Clinton once said (and I'm not often one to quote him), 'You can put wings on a pig, but you don't make it an eagle.'
And again it was a hard thing to do. What we remind ourselves, however, is that the pigs have had a fabulous life, living entirely outdoors, with an acre field to themselves. They often stood and shared a moment with the sheep in the next field before resuming their foraging, using their well-designed snouts to turn over the turf, or galloping across to say hello to one of the Labradors.
Now, five days later and after a weekend of dicing, mincing, sausage-stuffing, de-boning and packing, we have a freezer full of the freshest, least food miles, tastiest meat and there's only a hint of guilt, as without us they may not have lived such a fabulous life and certainly the breed may not survive unless the likes of us continue to look after such wonderful creatures.
We are committed to having pigs, if not every year but regularly. To look after pigs is to be committed, you can't just be involved, as we thought we would be.
'The difference between involvement and commitment is like ham and eggs. The chicken is involved; the pig is committed.' Martina Navratilova
This morning was one of those glorious sunny, misty ones which just makes your heart sing and also makes you wish you were Keats so you could write it all down mellifluously. It was so stunningly gorgeous that, after I'd fed the animals, I grabbed my camera to attempt to capture the essence of the sunshine on the dew and especially on the glistening cobwebs.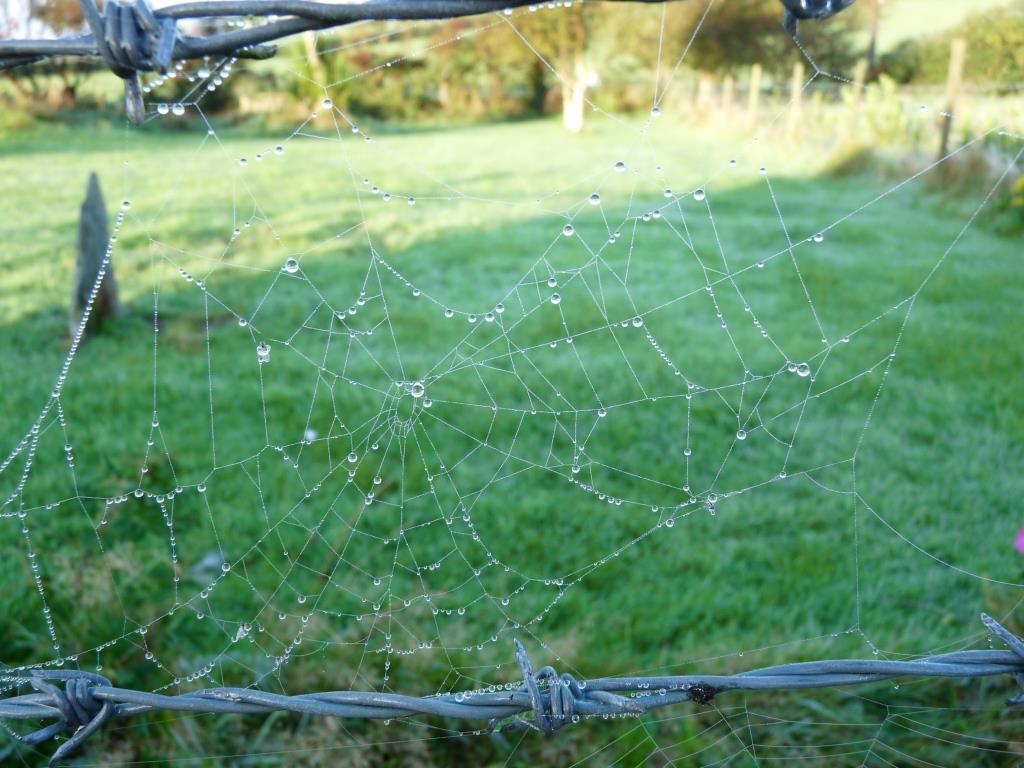 I have regular encounters with cobwebs in the mornings. I know where the usual suspects are: across the shippon door, across the chicken run and everywhere in the polytunnel. So I have developed a sort of Cobweb Tai Chi arm waving movement I perform, normally armed with a bucket of pellets or a hose pipe, to cut through the silken webs with my implements – rather than getting a faceful…It's a good thing only the cats are watching!
The webs on Gorse Hill this morning were silver filigree bedecked with diamonds – and those diamonds dazzled with all the colours of the rainbow but especially a yellowy gold. My photos have not done justice to the scene, but you can get the idea.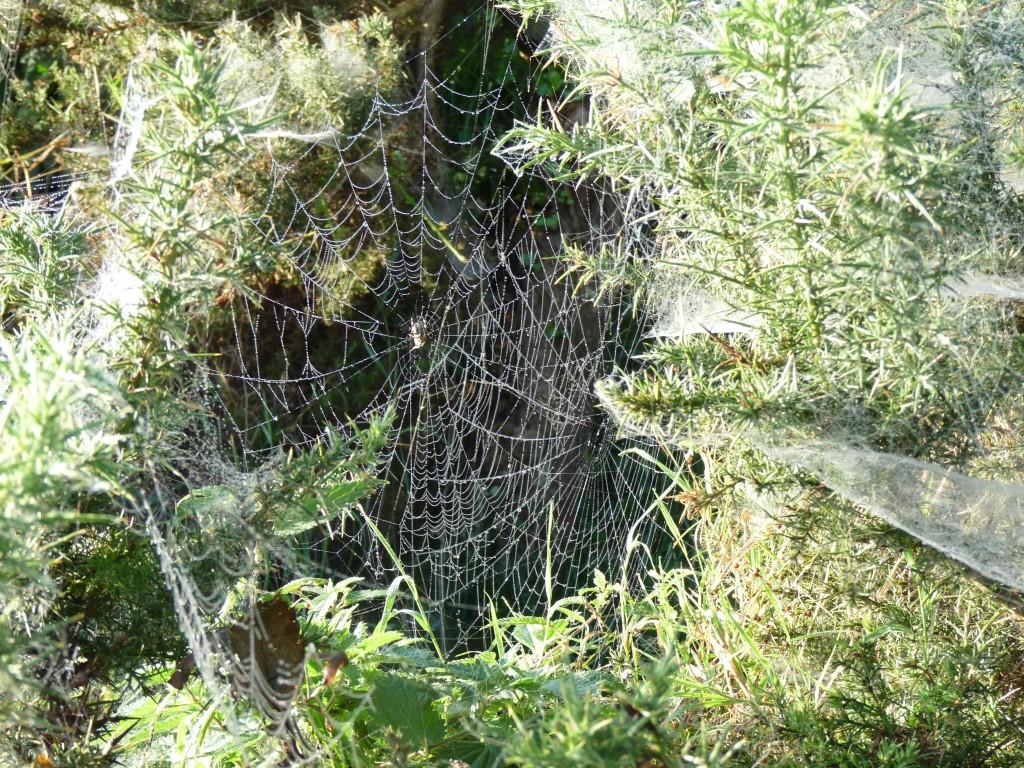 The grass was sparkling too, heavy with droplets of dew, and provided Barbara, our Black Lab, with her favourite drink. She's a nightmare to walk on mornings like this as she just wants to stop to lap up the dew. All the fences were dripping with jewel-like drops and the low sun showed every contour on the sheep's horns.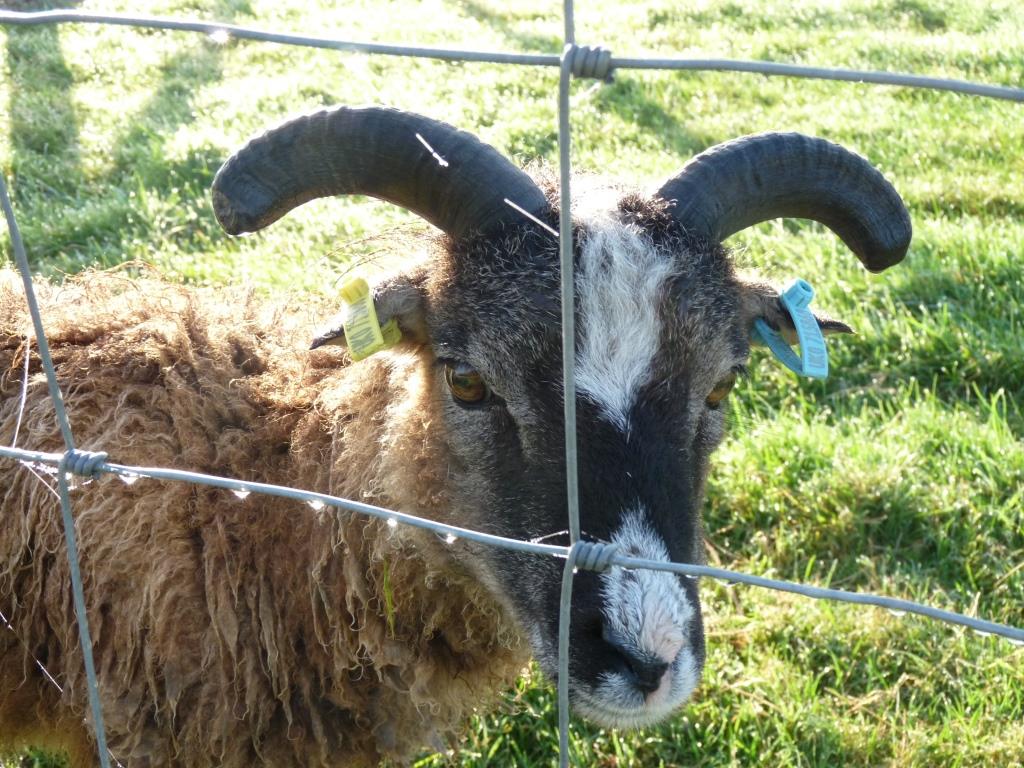 The bright red of the haws and the yellow browns of the sycamore leaves were all enriched by the rising sun and the laden boughs of the apple trees were almost visibly ripening in the intense morning sunlight. So often I find the sun seems to be strongest first thing in the morning, waking the world up and giving us the energy to get going.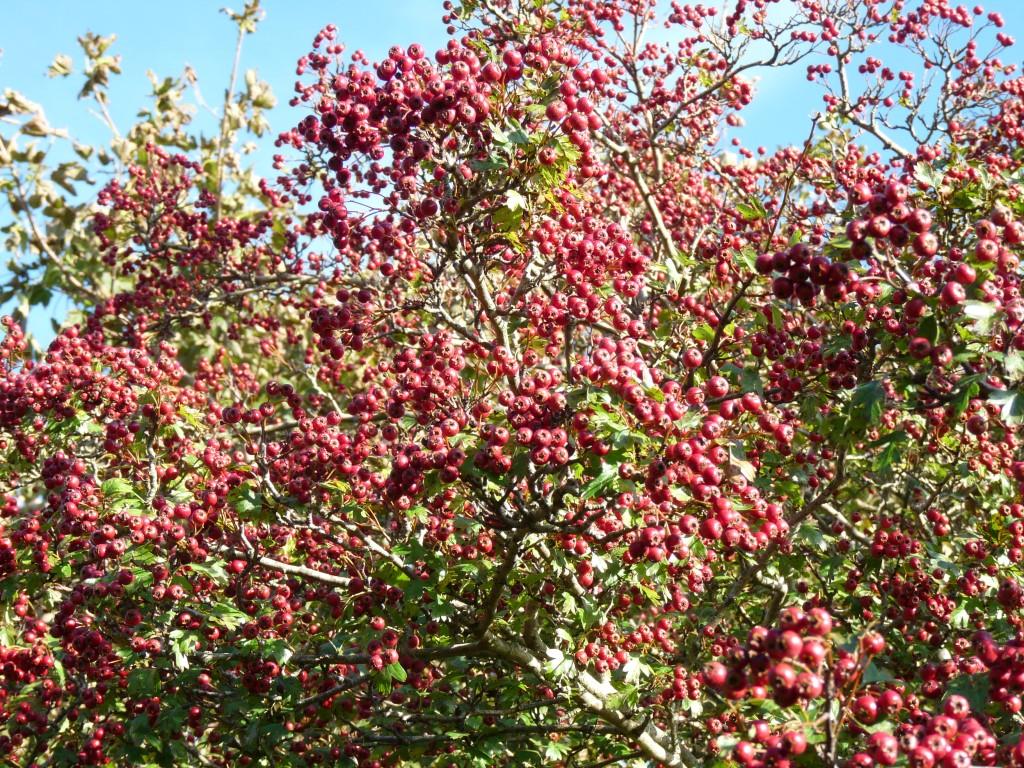 On a walk a few days ago (to the fabulous burial chamber, Bryn Celli Ddu), our path was strewn with crab apple windfalls so we all picked up as many as we could and stuffed them into pockets and carried handfuls back to the car. Over the wet weekend we've just had, I have been reading recipes to decide how best to use them. I think rosehip and crab apple jelly shall be the thing – so let me arise and go now, go to the bountiful hedgerow…
As I stepped outside this morning, the chill air made me zip my fleece all the way up to my chin. Autumn is icumin in and Nature is showing us how to survive the seasonal challenges by displaying Vitamin C everywhere: blackberries, sloes, rosehips, wild plums and haws in the hedgerows; plums and apples ripe and really ready to eat in the orchard, with pears to follow very soon; blueberries in the fruit cage and a glorious canopy of grapes in the polytunnel.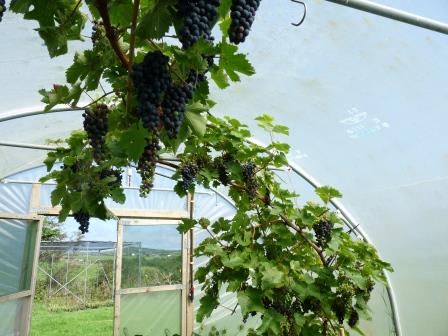 The only problem is that one can only eat so much fresh fruit a day, so now we need to work out how to best store all of this bounty. Some ways are easy and obvious: plums, grapes and berries freeze well as they are. Nick has also been baking some sweet treats – this weekend it was Monica Galletti's blackberry and apple bake. Positively yummy!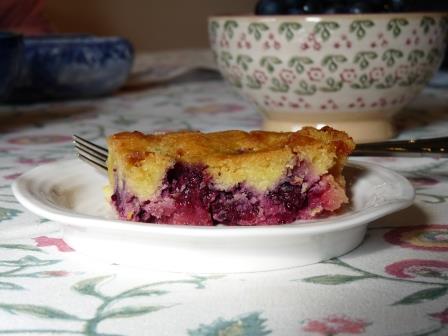 Fruit compote's great for breakfast with yoghurt or on porridge, so that's another quite quick solution. A much more time-consuming task is the making of jellies – but it's oh so well worth the wait. Bramble jelly has to be one of the Seven Wonders of the Preserving World. A B&B guest asked earlier this year if we sold it by the jar. I just politely said that we didn't, rather than explaining that it was in fact priceless. The time spent picking the berries, cooking them, letting the gorgeous juice drip drip drip overnight before boiling it fast with sugar, testing for a set, bottling it all up and labelling it, and finally squirrelling it away in the larder – all of this time and process is not for sale. It is a joyful, intense labour of love for perhaps five jars!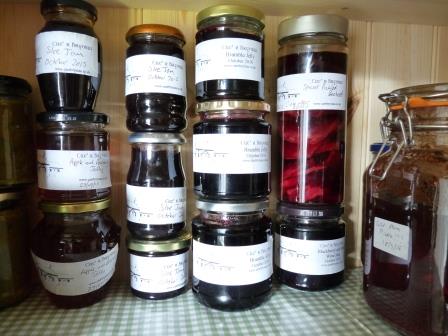 The hours spent picking blackberries are some of my favourite of the whole year. It takes complete mindfulness to select the ripest, but not mushy, berries and to avoid getting stung by nettles or scratched by brambles, blackthorn et cetera. The first berries are the best: the biggest, the sweetest, the juiciest. They lead the way at the front of the cluster and demand to be picked, completely irresistible. Many seem to reach my mouth rather than the collecting bowl.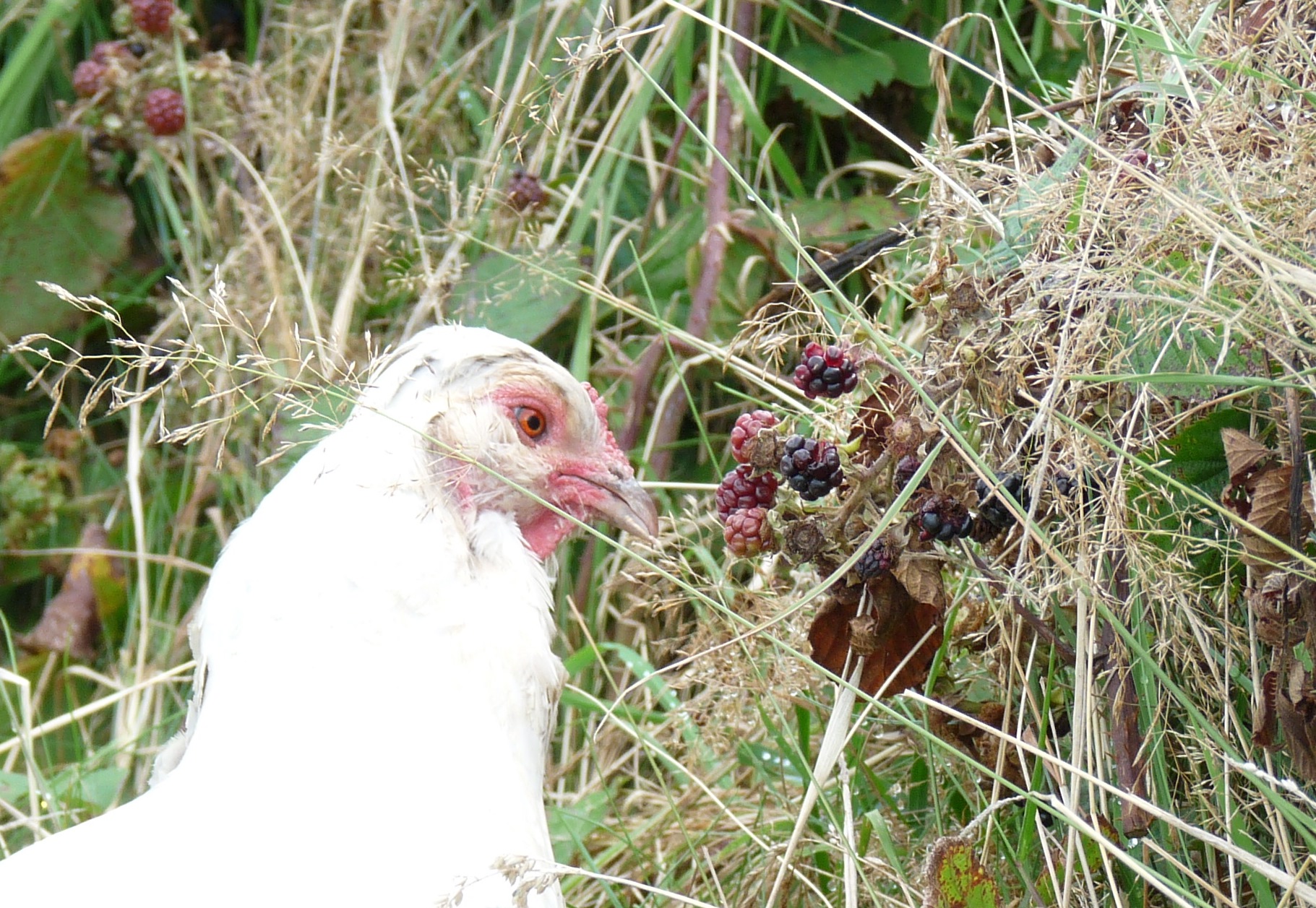 We do get some help with the fruit glut. The hens head straight for the orchard as soon as they are let out in the mornings and any windfalls they don't deal with are given to the pigs as a little treat with their supper. The hens also help themselves to the blackberries they can reach and, if they realise I am off to pick fruit, I have a little retinue of feathered friends following me. Then there are the Labradors, who will hoover up tiny wild plums en passant… and then, of course, there will be consequences.
Harvesting fruit is a timeless act. Hunter gatherers stopped up the hill from here in Neolithic times. Archaeologists excavating the site of the new school in Llanfaethlu found that this was one of Man's earliest permanent settlements in Wales. Picking blackberries today, I can't help but feel connected - not just with our forebears but with the natural rhythm of the World.
August used to be one of the quieter months for me, not now! If you aren't absolutely on the ball at this time of year, you find that you've missed the moment to pick those lovely little courgettes and you now have marrows. Or the perhaps plums, which were rock hard last time you checked, have all shrivelled up or dropped off the tree and are now feeding the slugs.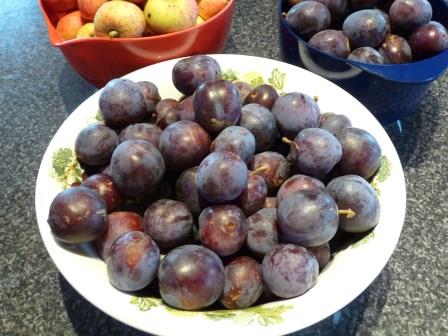 Slugs. There's a topic! Are they getting bigger? They certainly seem to be more prolific than ever. My sunflowers were their first victims this year. I sowed trays and trays of them; my main aim was to have them for cutting for the guest rooms, secondly to encourage bees and other insects, thirdly just because I love them.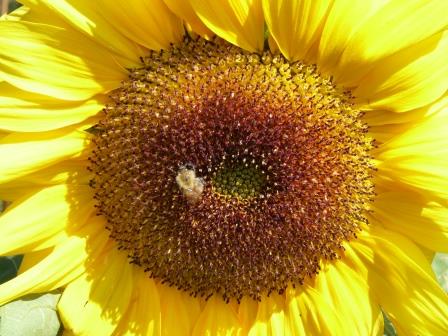 When all the seeds germinated, I really thought we might have enough to spare to try to eat some of the buds, which apparently are lovely fried with a little butter. Well, I still don't know if they are or not. After planting my seedlings out, the slugs struck.
Every morning more had gone. Last year I discovered that crushed egg shells don't work nor does wool (this was in The Slug Dahlia War). Copper rings/tape do – for a while. You have to keep them clean. If the copper gets a film of soil or dust on it, over the slimey so-and so's go! So this year I reluctantly bought some pellets, certified for organic use. They work ok, but you have to be super vigilant and re-apply more often than I did…
So eventually I was down to about a dozen sunflowers which had somehow managed to form a bud and were far too precious to eat. These survivors are beautiful, but they have to be cut only after careful consideration and displayed in single stem vases, rather than in the abundant Van Gogh style I had envisaged.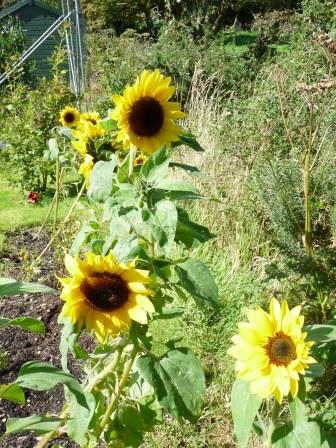 It's not just in The Valley (our kitchen garden) where I battle the goo-oozing gastropods. They have a particular penchant for gathering under the hens' drinkers. At the moment, it's often about 6.30am when I give the hens their crumble and let them out of the run. If you know me, you will know this is not my peak time…
Imagine, if you will, a rather sleepy Suzi picking up an empty drinker, taking it to the tap, putting her hand on the red base to unscrew it and getting a handful of slug as well. It generally wakes me up quite quickly. I try not to scream – as it's not the sound our B&B guests want to be roused by. You'd think I would learn!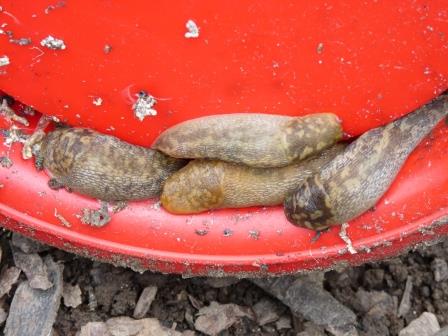 Bore da! As the weather is ofnadwy today, I am writing this to avoid doing all those indoor jobs I just love – cleaning, ironing, filing…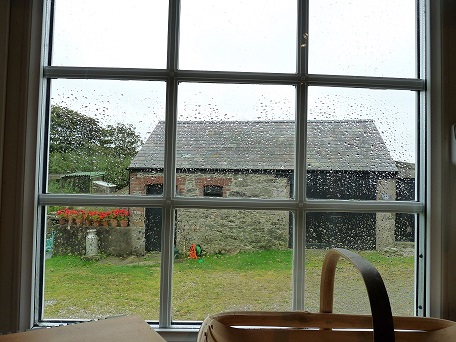 After my mentioning pigs' ears in last week's post, I was getting myself in a tangle with some chicken wire (trying to protect young plants from Labradors rather than chickens, though!) and said to myself that I was making a real pig's ear of it. So as I undid it all and started again, I wondered why a pig's ear is making a mess of something.
My initial thought was that a pig's ear isn't messy – sometimes it's dusty or muddy and, on rare occasions, sunburnt – but not untidy. Perhaps then it refers to an old method, pre- tagging days, of marking animals by making a notch on the edge of their ears? Apparently not! Having failed to find an answer in my beloved Brewer (Dictionary of Phrase and Fable) and a plethora of other dictionaries, I turned reluctantly to the internet.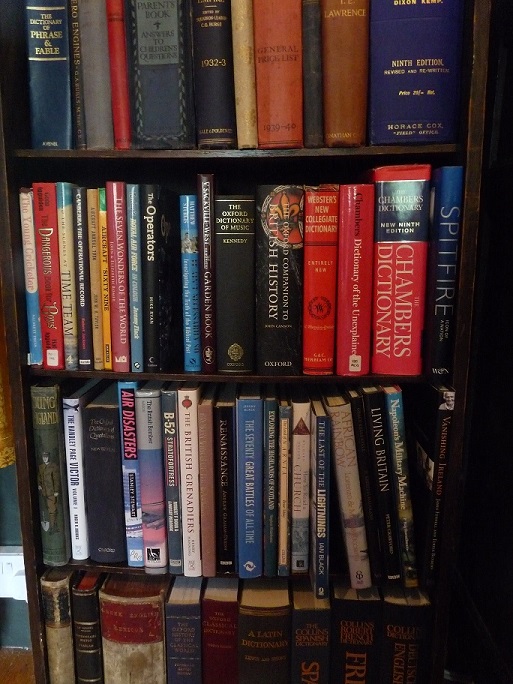 It seems that no one really KNOWS where the phrase came from. It was first seen in print in the 1950's but that's about it. The general guesswork consensus is that it comes from the very old saying "You can't make a silk purse out of a sow's ear". Brewer (yes, the good old book worked this time) gives a quote from Peter Pindar (the pseudonym of 18th century satirist Tom Wolcot):
"You cannot make, my lord, I fear,
A velvet purse of a sow's ear."
So the thinking goes that if you've made a mess of something, you haven't made a silk or velvet purse, instead you have made a pig's ear. Apparently. Not sure I am completely happy with this answer, so if you have any better thoughts, please share them!
All a bit too academic, this blog isn't it? I shall lower the tone dramatically then by talking about pigs and their poo. I want to speak up for these animals who are often referred to as dirty. In my (ok, still quite limited) experience, pigs have fastidious toilet habits. They keep their ark clean and use the perimeter of their enclosure, as far as they can go away from their bed, to do their business.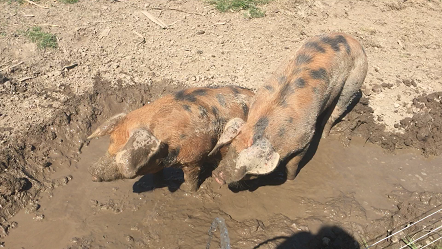 Pigs love having a MUD bath when it's hot and we often make a wallow for ours. People have confused this natural way of them screening their skin from the sun with them rolling in poo. The expression "Happy as a pig in s***" is completely erroneous.
But I suppose many of our phrases do come from observing animal behaviour. Our hens have a clear pecking order. Busy bees work hard flying from flower to flower and as for what the cat's dragged in, don't ask! However, a dog's life looks quite good to me!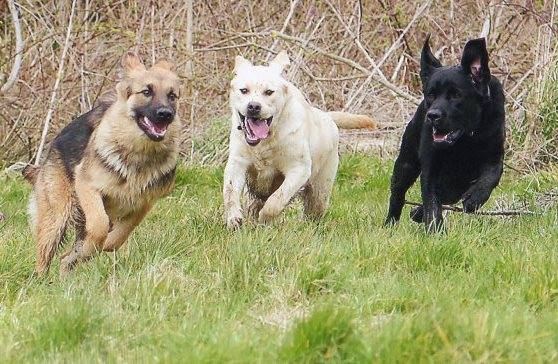 As Nick has taken on quite a lot of work off the island at the moment, I thought I'd try my hand at updating our blog.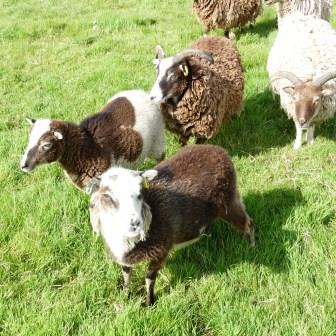 Lovely guests, on Ynys Môn for the Eisteddfod, left yesterday morning and, with no-one booked in for a few days as Nick is away, I have the joy of being able to choose what to do today. Of course, that's after the regular chores… for those of you who haven't visited us (yet!) these include…
Morning & afternoon feeding and checking on the animals: 2 pigs, 10 hens, 20 Soay sheep, 3 cats and 2 dogs. This is quite often a delight, as it was this morning - with the sun breaking through the clouds, the birds tweeting and the friendliest sheep coming up to give me a gentle "Bore da!" nudge.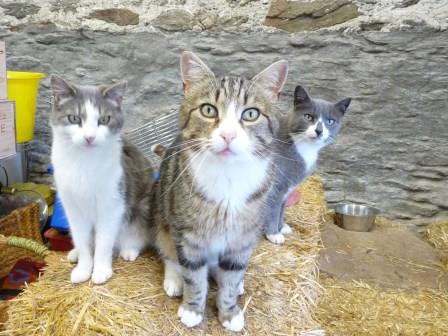 I moved the boy sheep from Bottom to Middle Field which intrigued the pigs who are in Top. They galloped down to the fence to see their new neighbours, or rather to try to see them. They have gloriously floppy ears which hang right over their eyes, giving them natural blinkers. The boy sheep, not having been on this territory for about three weeks, obviously needed to do some male "I'm in charge here!" thing as there was a lot of head butting and prancing around. This seemed to scare the poor piggies who dashed back up to the top of the hill and the safety of their hideout under the gorse.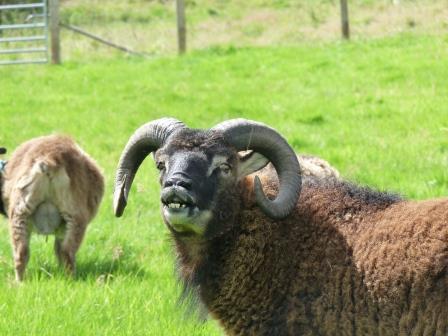 Pigs at speed. I never realised how fast a pig can run until we kept our own. As we are lucky to have the space (and land that needs clearing), all of our pigs over the last three years have had a small field to call home. They have an ark and a small enclosure around it whence they retire at bedtime or for their afternoon siesta, but otherwise they roam around, rootlin' and a-tootlin', digging up tasty roots, finding a tree to scratch their backs on or a nice bit of mud to cool off in. How great for them to have all this freedom! Then I arrive with a bucket of food for them. They don't generally see me coming (note above) but they know what the metallic click of the gate opening means. It's their starting pistol.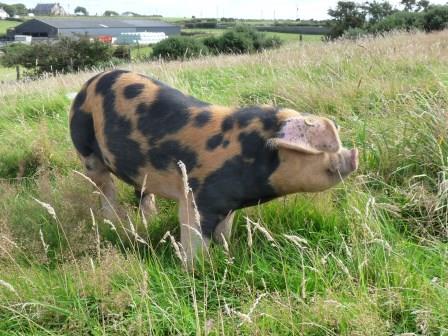 If there's nothing between you and the hurtling hogs, it can be a little unnerving. Their braking system is unpredictable and generally involves stopping by means of shoving head into bucket – because surely the bucket will stay still and the person holding it won't be bulldozed over?
One of last year's pigs thought nothing of crashing straight through the live electric fence at feeding time, or when she fancied snacking on windfall plums. However, getting her back over a turned off fence was a challenge and we probably should have videoed it for the amusement of our nearest and dearest. Our animal handling skills are improving – really! OK, so the progress is still a bit slow in some areas.
Wow, I have deviated from the daily chores, so at the risk of being a bore, I shall sign off for today and tell you about the delights of B&B laundry another time! Ta ra rwan!
 
Hello!
This posting coincides with two things – the start of Spring and secondly and more importantly the publication of our little video.
When looking to show what Cae'r Bryniau has to offer, we decided that something more active than just photos would give a better impression. Through the great offices of Hi-impact Media (http://www.hi-impact.media/) we now have a fabulous short film telling more about us.
As far as the B&B launch is concerned, we are getting close. Once the legal paperwork (food hygiene, licensing, etc) is done we should be launching next month. Watch this space.
Spring has sprung!
It is so nice to get through the winter and welcome in the spring. It has been a wet and warm winter, with barely a frost to kill off the bugs. After all the rain our lane is just about dry and no longer a quagmire. Having planted a lot of trees and hedging we did spend an awful lot of the winter covered in mud and soaked to the skin. It will be worth it, though. We are turning part of one field into an area of woodland, with Scots Pine, Beech, Oak and Hornbeam planted as well as willow as a wind break.
The pond is nearly complete and planted up (see January's entry). We also have new benches and chairs and a table to enable our guests to enjoy the views.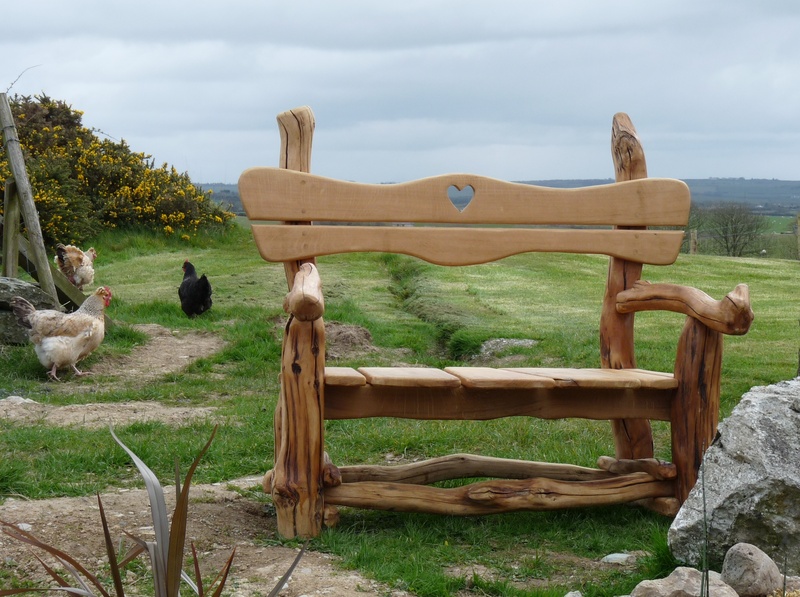 On the livestock front we have two new arrivals. They are numbers 3 and 4, two more Oxford Sandy and Black piglets; both gilts this time. They have settled well into their new home and are rapidly turning the field into a mud bath!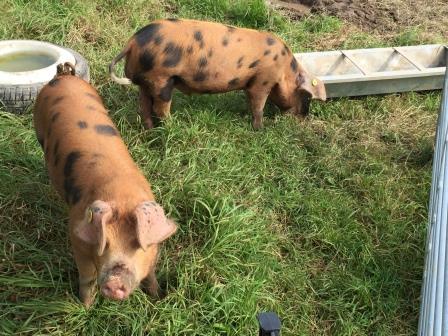 Tom and Barbara continue to rule our lives. Dog training classes are going as well as can be expected with two hyper Labradors! They do love their play dates with Zara the Alsation, though!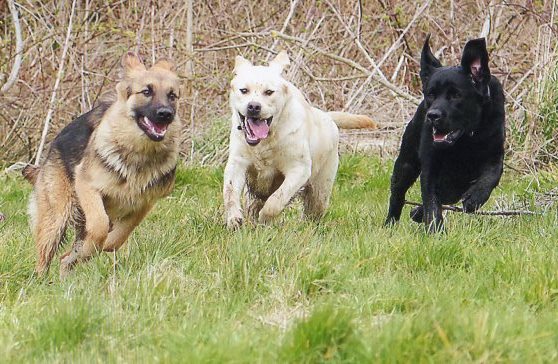 We have had a rare trip away from Cae'r Bryniau in the last few weeks when we were able to share a wonderful wedding day with Katrina and Nigel in York. Thank you so much for inviting us!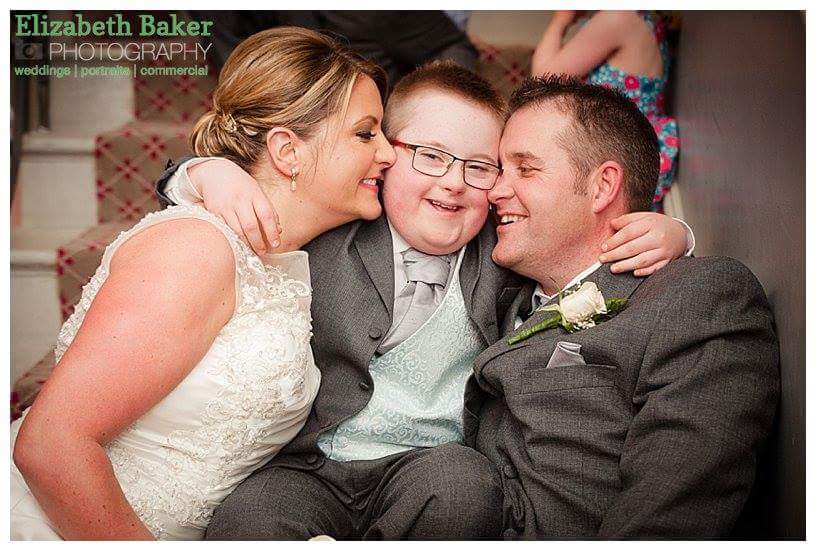 Blwyddyn Newydd Dda - Happy New Year!
We have been battered by some extreme weather this last few weeks. As I was told in the shop the other day, it has been 43 days of non-stop rain. Luckily we have had some respite in the last few days. Ok, there has been rain but not to the extent we have seen. The decision of the Met Office to name storms has coincided with us being battered by Storms Desmond and Eva in particular. Anglesey does benefit from mixed weather. The rainfall keeps the place lush and verdant so we have to stick with it. We wouldn't live anywhere else.
The weather has, however, changed the landscape somewhat. We now have a stream in the big field and a pond by the drive.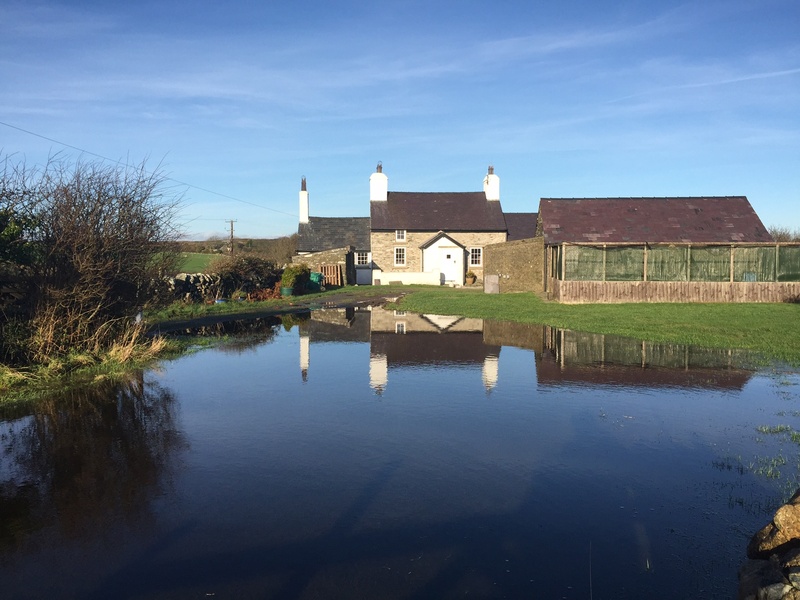 In fact the new pond (it is only a few inches deep at the moment) has given us an idea to make that a proper pond, partly to act as a sump in times of heavy rain, but also as it is so pretty! The birds love it!
Christmas has seen a period of quiet reflection at Cae'r Bryniau, a chance to review our progress and look forward to the opening of the Bed and Breakfast. Apart from that, we had a lovely time, with friends and family over the fortnight. Tom and Barbara were somewhat confused by the decorations - especially the five foot dancing Father Christmas - as the video below shows.
The Welsh classes are going well, too, but it is a tough language and takes some concentration. Well worth the effort, though.
Keep watching for the latest, but Suzi, Tom and Barbara and the rest of the menagerie join me in wishing you all a very healthy and prosperous 2016.
Hello!
Yes, it is me – after an age I am back at the blog desk. No excuses, it's just that we have had a very busy spring and summer and our B&B plans have been put back until next Spring due to a variety of reasons, some within our own control and not contractor-related!
As of today we have been here just over a year and our thoughts are turning to the next 12 months and the exciting times ahead. We wanted to mark the momentous occasion by a review of what we have been doing on the smallholding and away from the island.
Firstly the en-suite guest room is (nearly ready) and we have a luxurious bathroom and bedroom. The before and after pictures show the difference. Trying to get the work done was a challenge but the results are fab!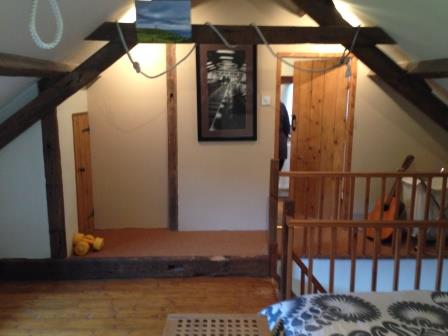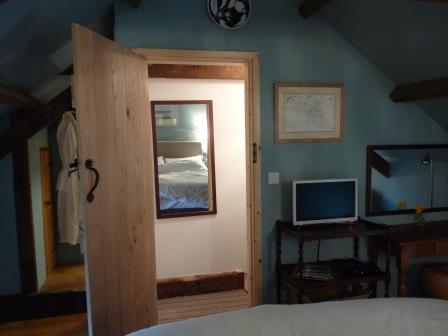 Secondly the valley. The polytunnel is up and running as are the veg beds. Just have a look at the progress… The storms in recent weeks have challenged the construction but she has held up in spite of 70 mph winds. After a relatively fallow first season, due mainly to my absence for much of the summer, we are looking forward to a new growing season. We also have raised beds, which have been very productive, and we have been able to assess what grows best in some challenging windy conditions.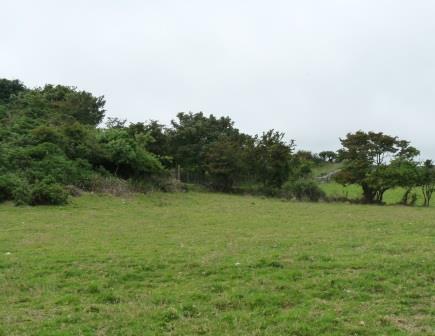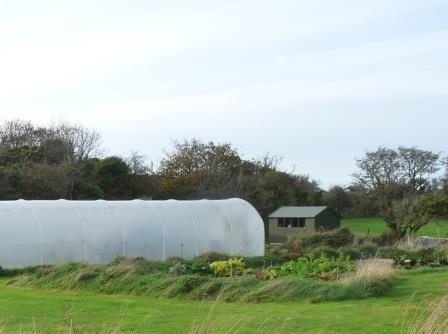 There has however been so much going on that we don't know what has happened to the year.
Arrivals and departures…
Arrivals
One of the most exciting aspects of the year has been the arrival of various new members of our family. The first significant arrival was that of our piglets. Numbers One and Two were Oxford Sandy and Black weaners and were 8 weeks old when we picked them up from the breeder on the island. They were boars who settled quickly into their new home in the Pig Field (note the imaginative nomenclature). They started with a small pen and we gradually extended the field until they had most of it. They did a fabulous job of clearing the bindweed!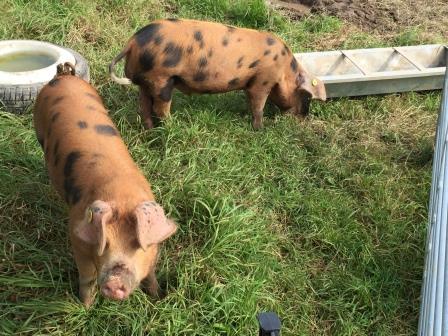 The next arrivals were 12 Soay sheep. We opted for Soays, which are Hebridean, as they are hardy and can pretty much look after themselves. We picked them up from Macclesfield and had a long drive with the trailer. We had agreed to take 8 ewes and 4 castrated rams, with the aim of using them to cut the grass. The lawn tractor is great (well, the new one is) but can't cope with the incline. The sheep settled well into their new home. We had our friendly local fencer divide the field up so we can rotate them and they are doing a great job. The next arrival was sheep no. 13! One of the ewes was, unknown to us, in lamb and Felix arrived a couple weeks after the herd arrived. He is named Felix, which is Latin for lucky or happy, as he (1) was not castrated, (2) will provide the source of new lambs when we get a couple of ewes from a different herd and (3) he will not end up in the pot! We have a policy of not naming the animals unless we do, so we also have Friendly, Granny and Daggy-bottom (don't ask!).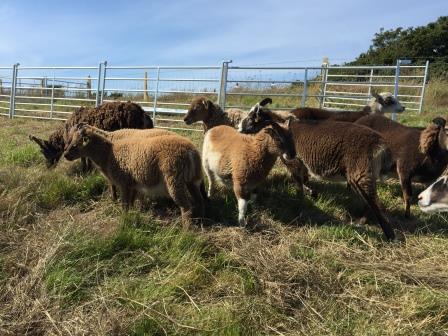 Finally we saw the arrival of Tom and Barbara. Tom and Barbara, born on 26th June, are the two most gorgeous Labrador puppies. Tom is yellow and Barbara is black, but they are from the same litter. They joined us in early September. Both are thriving – hard work but a joy! Their names are pretty obvious. We were given such a ribbing about living the Good Life that there was no option but to name them after Tom and Barbara Good! The picture is the latest one of them. Tom has just been 'done' and Barbara is wearing a cone in sympathy.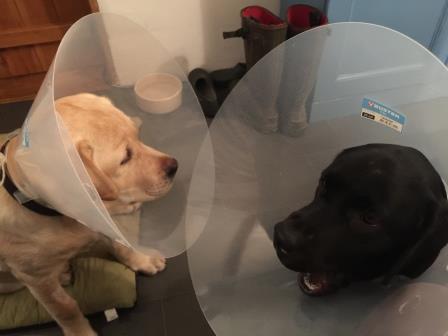 Departures
We have sadly lost three chickens over the year but still have eight who are very happy and healthy but being rare breeds eggs are rare!
One of the hardest things we did was to take Numbers One and Two to slaughter. Being boars it is recommended that they are killed no more than six months after birth due to boar-taint. This apparently occurs when they hormones start to race around as they become sexually mature. We always knew that if we wanted to live this life then we would have to cope with this aspect of smallholding. Anyway, we took the pigs to the abattoir at Denbigh and picked them up the next day and left them with the butcher to prepare. They are now in the freezer and what we have had so far is delicious, especially when served with all our own vegetables! Visitors to Cae'r will be able to partake in some of the produce and the next pigs arrive in a couple of months' time.
The preparation of Suzi's treatment room is moving on and soon the therapy business will be up and running. It promises to be a calm and peaceful retreat, just the ideal place for top quality holistic therapies. 
One of the key elements we are looking to do is to be as self-sufficient as possible. We are on mains water but also have a well that apparently provided water for over a century. We would like to use the well water and maybe even look at a borehole to make us even more self-sufficient.
Through the good offices of the Centre for Alternative Technology we have also looked at what we can do in terms of energy usage and efficiency. Watch this space…
Finally, as English on Anglesey we wanted to do as much as we can to integrate and have therefore started learning Welsh. We are doing the Wlpan course every Friday morning at Cemaes. It is hard work but great fun and lovely people, too. Bendigedig!
Well, what a couple of weeks we have had. The weather on Anglesey has been varied, to say the least. After a very wet couple of weeks, it has got drier and colder. We have now discovered that the pond does need lining – the ducks are unlikely to like a stagnant puddle! Although it was full for most of December, as soon as the weather dried up the water level dropped, so there is a good supply but it doesn't hold. We have also decided that the pond needs to be bigger, so another digger hire is on the cards!
Last time I promised an update on the aggressive cockerel. Clyde is a Cochin and a large one.when we first moved in he was fine with me, not creating any problems, although right from the start he was trying to stamp his authority on Suzi. In recent weeks, though, he has taken to going for me, too, whenever I go near him. We have sought advice, from the previous owners, other experts, and it seems that none of the potential solutions work. Various suggestions were made as to what could be done.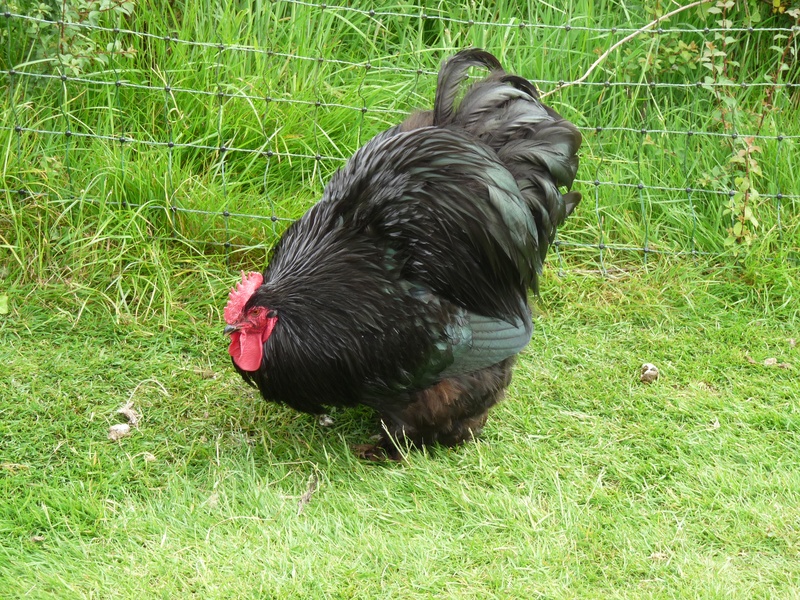 Wearing different clothes, standing firm, staring him out, not turning one's back – all these were suggested but none have borne fruit. I am the only one that can deal with him now and I have to segregate him if I need to clean out the hen house or check on eggs. There is now a comedic dance that goes on whenever I need to move him, as we both posture and strut for position, like some strange Argentine tango! Anyway, we knew that this would never be easy!
I never knew I was a fan of dancing until the Strictly Come Dancing phenomenon but we even a couple of weeks ago went to see Anton and Erin's fabulous 'That's Entertainment' show at Llandudno.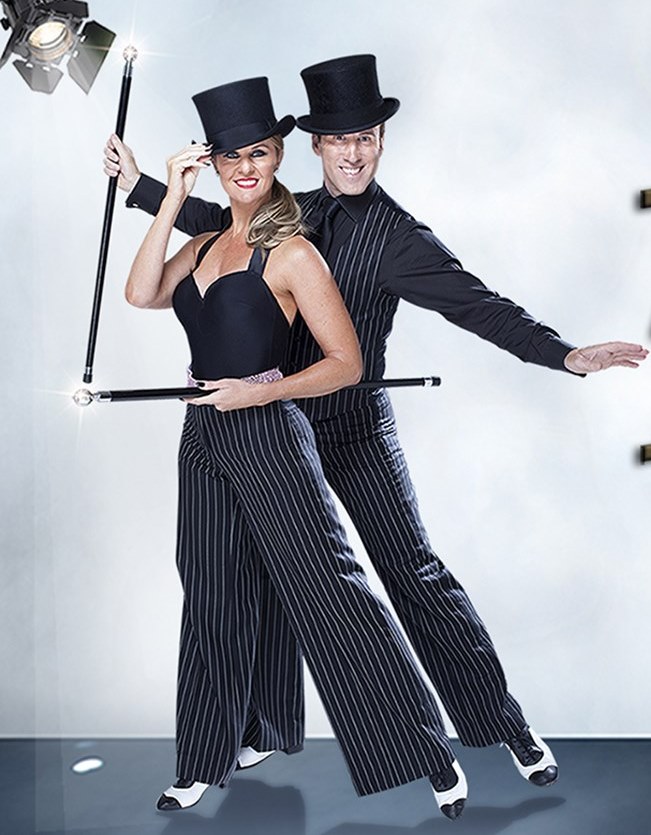 Not that you'd get me out on the floor but it is good to watch. Mind you, we did drop the average age when we walked in!
Other works that are going on include the driveway repairs. The drive is about 300 metres and rutted and potholed, which challenges smaller cars. Poor Dom's Smart Car did struggle – but it is so small he could drive down the middle of the track and miss most of the holes. Anyway, we had to grasp the nettle and get the drive repaired – although one neighbour suggested helpfully that if the drive is too good you'll get all sorts of callers! We do need to make it somewhat better for our visitors, however, so we bought a couple of tonnes of slate clippings and I spent a very happy couple of days filling and compressing the worst of the holes. Even better the weather was glorious!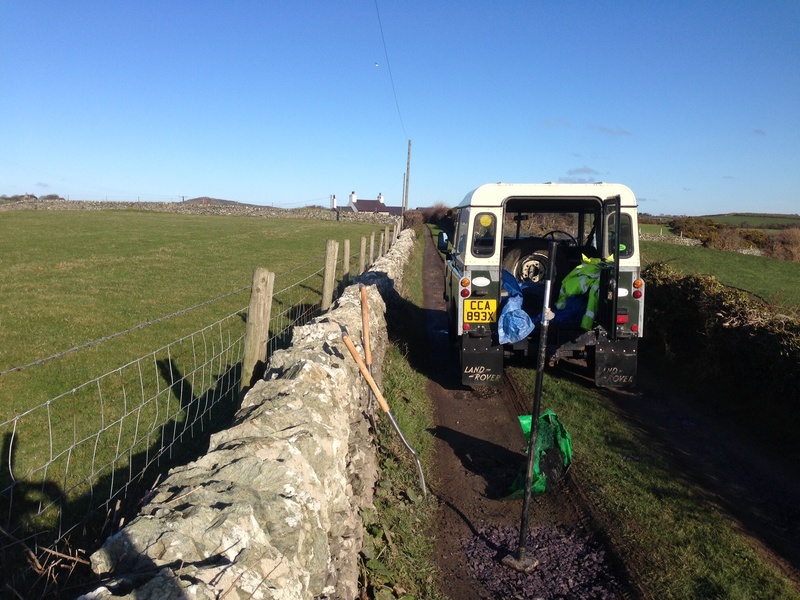 The job is almost finished and then it will be much improved!
The work on the polytunnel has stalled pending better weather but the preparation of the ground for the kitchen garden outside for the hardy crops is the next priority. We have been working inside while the weather has been less than clement and the library is nearing completion. The new fireplace has been installed (we used the Fire Works at Llangefni – they did a great job, although the need to put in a vent through an 18 inch thick wall was a challenge!) and we now have the surround tiled, using Spanish tiles collected by Suzi's great-grandfather at the turn of the last century. They look brilliant – as you can see.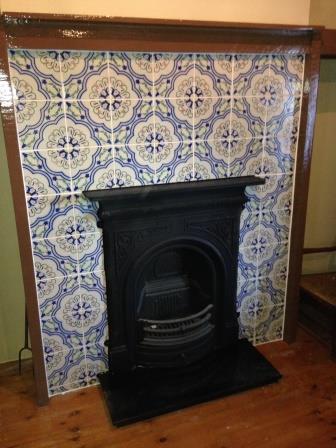 A great tiling job was done by Geoff, recommended by Izzy and Mikey. I think he'll get more work from us!
Suzi has been very happy choosing paint, material and other soft furnishing ready for when we have the B&B room ready. It has been somewhat frustrating trying to get the work done, but we now have the designs and are just waiting on prices. I never knew that there were so many types of shower, taps and baths! By the time the next blog is published I hope we might have the room ready.
In preparing the area for the growing we know we will need to have more storage so we are just off to choose a shed. What fun! We have also decided that the 'garage' in the barn is too small for the Land Rover (he is still to be named) so we are going to have to put up a garage for him. It also means I will be able to use the barn space as a workshop (or man-cave, as Suzi calls it), which is very exciting!
Ah, well. It is is time to head to the shed shop – more soon, when I hope to give an update on the arrival of pigs.
/