Shopping Cart
Your Cart is Empty
There was an error with PayPal
Click here to try again
Thank you for your business!
You should be receiving an order confirmation from Paypal shortly.
Exit Shopping Cart
We are hoping to offer guests a great glamping experience in our Shepherd's Huts. But to do so I have had to consider what glamping really means! If you read my last blog, you'll know that for me a flushing loo ensuite is essential. Going outside on a cold wet night to get to the loo would remind me of inconsorpiant chilly childhood camping experiences in France. Even on a hot dry night in Kenya, going from tent to long drop (or to behind bush) was not my idea of fun – especially if there were grazing hippos around, but that's another long story involving Cub Scout Camp at Lake Naivasha and my dear friend Janet…
It was when I was working in Kenya (more years ago than I care to count) that I first experienced a tent with a bathroom at the fabulous Island Camp, Lake Baringo. There was even room service - tea brought to you at dawn so you could watch the sun rise over the Rift Valley. Glamping indeed!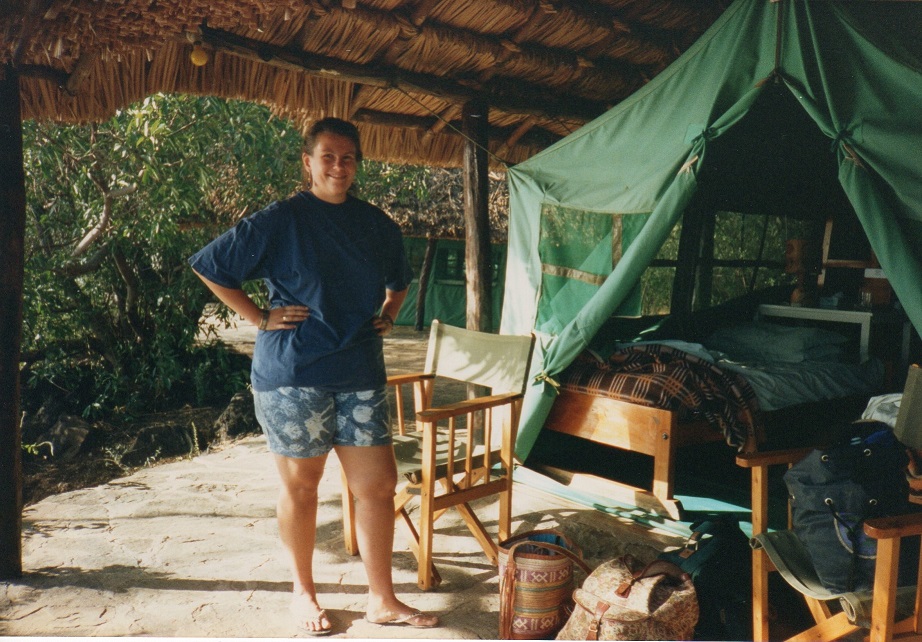 Glamping should probably involve all the best bits of camping: being in the countryside, watching the sunrise/sunset, lighting a campfire, cooking over wood, listening to the dawn chorus, lying on a blanket reading a book, making daisy chains, getting away from everyday stuff and having time to notice the bumble bees and butterflies.
Then you need to take away the bits that can be uncomfortable or inconvenient. Replace them with a comfy bed, heat at the flick of a switch, hot and cold running water, proper indoor cooking options in case of bad weather, and you have very glamorous camping experience.
Opinion is divided in this house about canvas. Nick likes the sound of rain on tent. I know what he means, but for me the romance of that wears off after an hour or so, especially if you've ever sleepily rolled against the side of a tent so the inner is touching the outer with soggy results. The thought of a solid weatherproof structure (with an insulated roof so the sound of the rain isn't too loud) which can be dry, warm and comfy even in January seems to be the best business plan.
But this structure mustn't be "normal". Glamping is about getting away from the everyday. As a little girl, I loved making dens (actually I still do…
and I suspect that element of taking the stuff you really want into that space under the old rhododendron bushes, where you have already secreted some cushions and your comics, is what makes for a perfect getaway. So what "stuff" do we want? A radio for TMS, binoculars so the lookout can raise the alert for Barbarians, something to read, maybe a game to play, a blanket, and, as Pooh would say "a little something" - honey? Or perhaps marshmallows for toasting?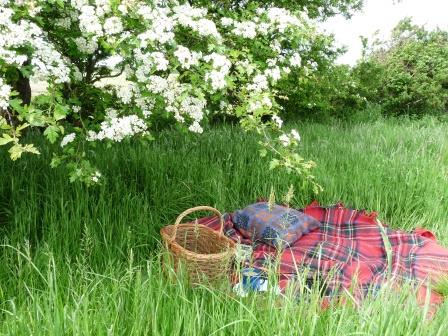 So as Riverside Shepherd Huts prepare the first cosy den for us (see the progress below) I am gathering all those little bits together which I hope will make it a very special place to stay.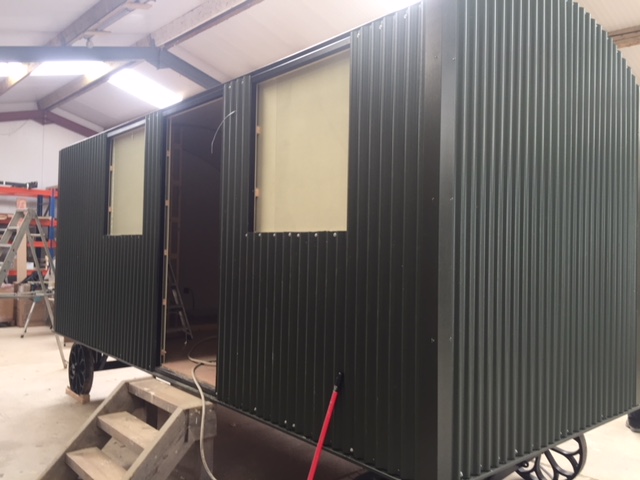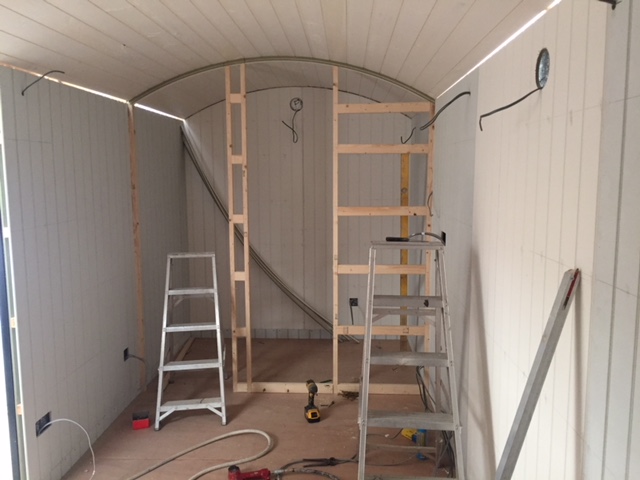 I knew there would be trenches – from the electricity pylon at the back on the house to the Shippon via the water supply and via the new Calor gas tank, from the Shippon to Hut 3, from Hut 3 to Hut 1, then down the hill to Hut 2, then further down the hill to the sewage treatment plant…
What never occurred to me (stupidly), was the spoil that would have to be put alongside the trenches. Getting to our store room or the hen house is now an extreme sport. What fun! I have only slipped in once (so far!).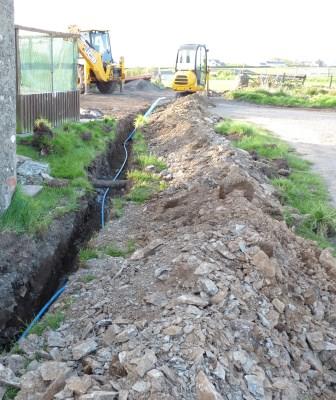 As many of our friends know, my husband loves to hire a little digger and this has been very handy on many occasions since we moved to Cae'r Bryniau: making holes for the polytunnel frame, clearing areas for shed bases, making a planting ditch for a hedge, creating ponds etc. However, having seen the exact and precise work of Gary on his bigger digger, I am not now sure how Nick will react. Will he give up, never hire another digger and just "get a man in"? Or will he have to hire one even more often to hone his skills?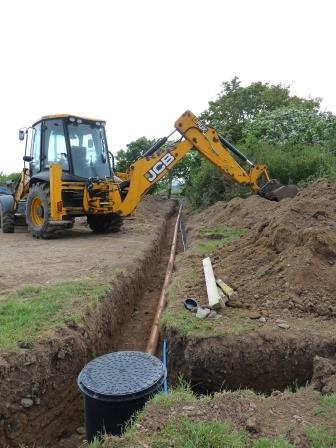 We have planning permission for three Huts, but are only putting two in at this stage. But we thought we'd get the bases ready for all three while we're at it. Hut 3 will go where the blackthorn thicket was by the parking area. This has meant digging trenches through the bedrock – hard and noisy work! The Calor gas tank is also going by the hen house, so more rock-breaking required.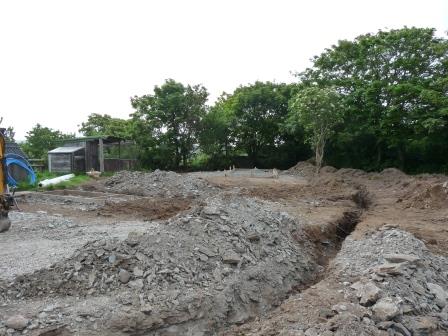 We're having Calor gas cookers and water heating in the Huts to take the pressure off the electricity supply, which means we should be able to run all three Huts at maximum capacity on one domestic electricity supply. The complexity of arranging all of this does now make me question our original decision not to go off grid…
So why did we take that decision? Firstly and perhaps most importantly – the loo. Believe me, I looked into compost toilets of many types. It would/should have been the green way to go (if you'll pardon the pun!). But, the potential downsides (use your imagination) of such a facility in a small Hut would, I believe, have had a detrimental effect on the holiday experience… Of course we could have put the loo in another building/hut nearby…but I am of the mind that an ensuite is not a luxury on holiday and I am sure that many of our future guests would agree. So a water supply was needed. Plus electricity for the sewage treatment plant.
The biggest dilemma was whether to have wood burners in the Huts. The charm and romance of cuddling up in front of a fire was, in the end, outweighed by two things: fire risk and no fire risk. Let me explain. The former is quite obvious once you have heard a few tales of other people's Shepherd's Huts guests: e.g. putting too much wood in the burner, getting too hot, taking a log out and putting it on the floor… The latter is the risk of guests being cold and therefore grumpy. As part of our research we stayed in a Shepherd's Huts in midwinter. It was a beautiful weekend – cold, crisp and absolutely no wind. No draft at all. In order to get the wood burner to draw we had to keep the Hut door open, which made us even colder. Brrrr!
There's also the problem of needing just a little heat on a chilly summer's evening, when a fire would be overkill. So we have gone for very unglamorous but supremely functional electric wall heaters. Don't worry though - there will be enough burning opportunities outside the Huts with all sorts of fire pits and barbecues to keep even the most ardent pyromaniac happy!
Enough witter for now. But let me leave you with a picture to hint at what my next blog will be about: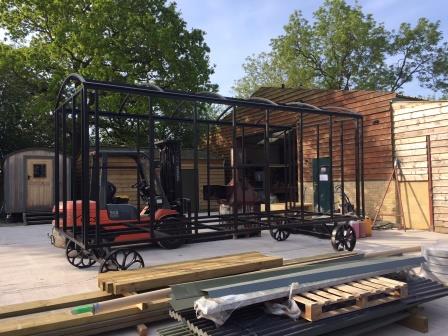 As the April showers pelt down outside, I sit inside quietly waiting for contractors to arrive to prepare Cae'r Bryniau to receive two Shepherd's Huts. We hope to have the Huts on site and ready to let by the middle of the summer. The planning for this started a looooooong time ago and the dream even before that, so it is VERY exciting that we are about to start the physical work.
When we were still living in the Vale of Glamorgan and travelling all over Wales at the weekends looking at potential properties to buy, we had a list of about ten things which would make for our perfect place. One of those was the most important thing – the "Ah" factor about the house itself. It had to have character, charm and we would need to fall in love with it instantly. Well, Cae'r Byniau of course met that criterion. It also had the right amount of land, was close to the coast and all sorts of other things were ticked on our list.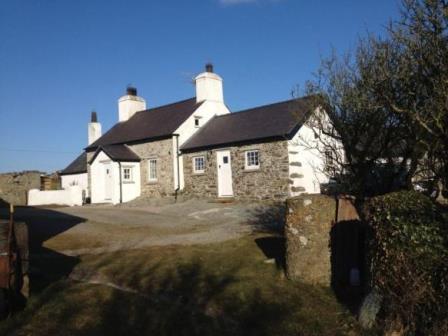 There was one little problem… we had been looking for somewhere with a little holiday let on site, or at least an outbuilding which could be converted. That small hitch did not stop us and we decided to put a proper en-suite bathroom in for the upstairs bedroom and run a B&B instead. We've had two great summers running the B&B but we are now in a position to expand and realise the holiday let dream.
Shepherd's Huts are the perfect solution – they have low impact on the land and will be a dark green colour so will not stand out too much. They will enable guests to enjoy being close to nature but with all the creature comforts one needs to wash, be warm and cook inside in a wet Welsh summer. But there will also be a lovely space to sit outside in the sunshine and look across the island to Snowdonia, maybe whilst having a barbecue, or toasting marshmallows over a fire.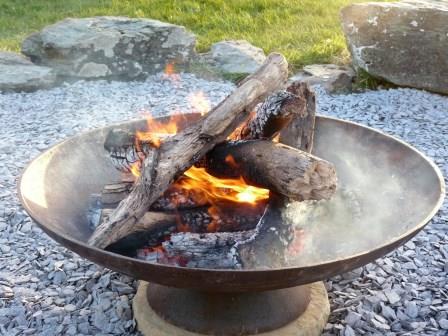 We were granted planning permission at the end of last year and since then have been working with Riverside Shepherd's Huts to design two huts which will be a little different from each other so they have their own characters. It's been another learning experience for me as once more I have to try to understand new things – electrical loadings, sewage treatment plants, metres of visibility required when turning onto a main road etc. etc. A lot of this is, however, in Nick's comfort zone and he has patiently tried to explain amps and kilowatts to me when he has returned from work in Colwyn Bay.
The universe has aligned for us and Nick's temporary part time job (Ha Ha!), which he has done for way over a year now, will be ending next month. Perfect timing as it'll coincide with the final preparations for launching the Huts. We are not going to set a date yet for letting them as we want to get them installed, kitted out and "trialled" first and give the ground time to recover from the earthworks involved in putting in pipes and cables. As soon as we're happy we shall launch the lettings! Watch this space - or rather these spaces: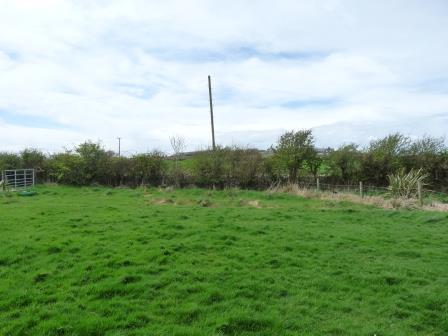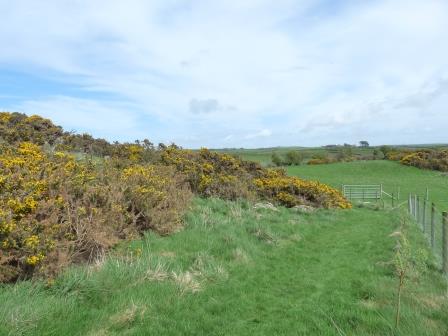 Hello!
This posting coincides with two things – the start of Spring and secondly and more importantly the publication of our little video.
When looking to show what Cae'r Bryniau has to offer, we decided that something more active than just photos would give a better impression. Through the great offices of Hi-impact Media (http://www.hi-impact.media/) we now have a fabulous short film telling more about us.
As far as the B&B launch is concerned, we are getting close. Once the legal paperwork (food hygiene, licensing, etc) is done we should be launching next month. Watch this space.
Spring has sprung!
It is so nice to get through the winter and welcome in the spring. It has been a wet and warm winter, with barely a frost to kill off the bugs. After all the rain our lane is just about dry and no longer a quagmire. Having planted a lot of trees and hedging we did spend an awful lot of the winter covered in mud and soaked to the skin. It will be worth it, though. We are turning part of one field into an area of woodland, with Scots Pine, Beech, Oak and Hornbeam planted as well as willow as a wind break.
The pond is nearly complete and planted up (see January's entry). We also have new benches and chairs and a table to enable our guests to enjoy the views.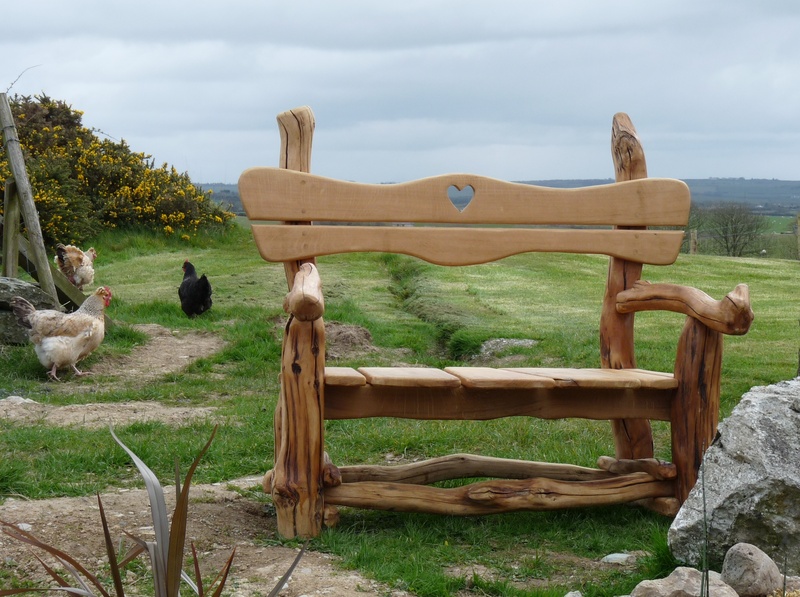 On the livestock front we have two new arrivals. They are numbers 3 and 4, two more Oxford Sandy and Black piglets; both gilts this time. They have settled well into their new home and are rapidly turning the field into a mud bath!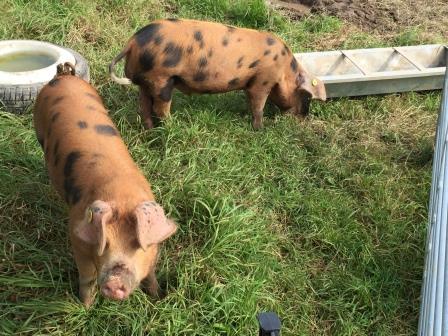 Tom and Barbara continue to rule our lives. Dog training classes are going as well as can be expected with two hyper Labradors! They do love their play dates with Zara the Alsation, though!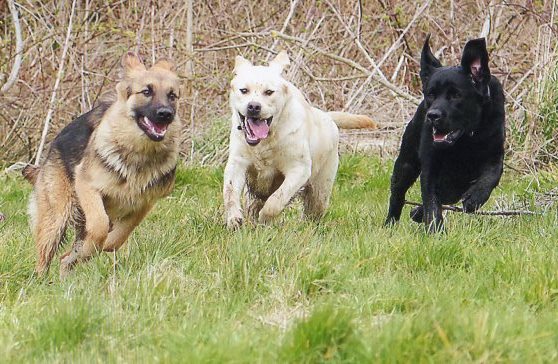 We have had a rare trip away from Cae'r Bryniau in the last few weeks when we were able to share a wonderful wedding day with Katrina and Nigel in York. Thank you so much for inviting us!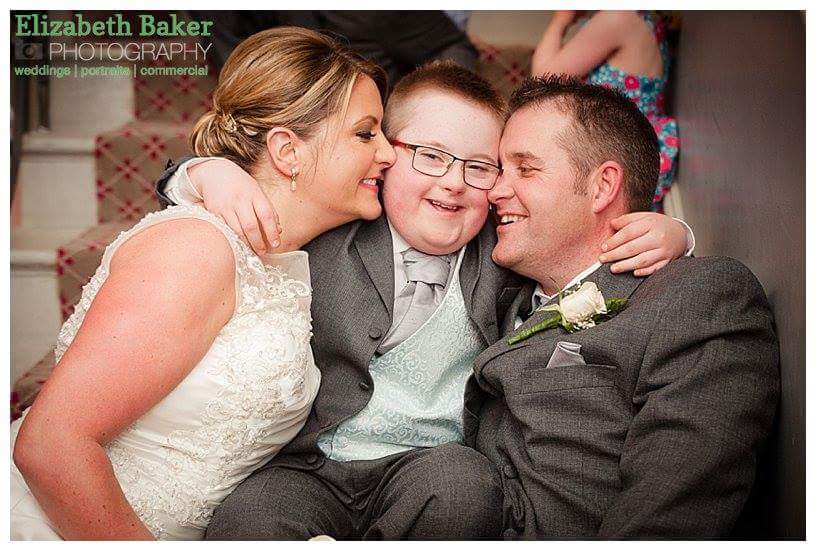 Hello!
Yes, it is me – after an age I am back at the blog desk. No excuses, it's just that we have had a very busy spring and summer and our B&B plans have been put back until next Spring due to a variety of reasons, some within our own control and not contractor-related!
As of today we have been here just over a year and our thoughts are turning to the next 12 months and the exciting times ahead. We wanted to mark the momentous occasion by a review of what we have been doing on the smallholding and away from the island.
Firstly the en-suite guest room is (nearly ready) and we have a luxurious bathroom and bedroom. The before and after pictures show the difference. Trying to get the work done was a challenge but the results are fab!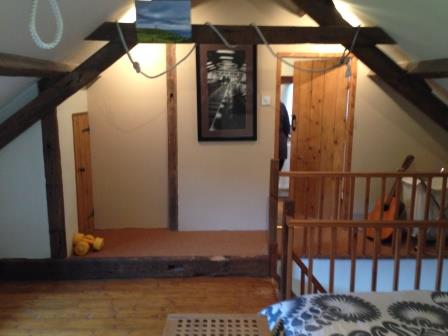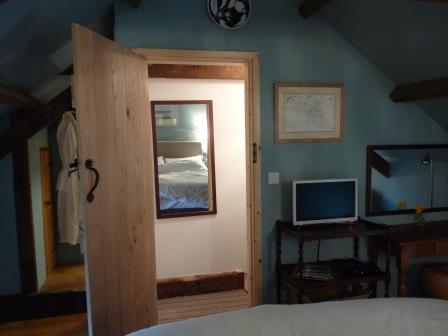 Secondly the valley. The polytunnel is up and running as are the veg beds. Just have a look at the progress… The storms in recent weeks have challenged the construction but she has held up in spite of 70 mph winds. After a relatively fallow first season, due mainly to my absence for much of the summer, we are looking forward to a new growing season. We also have raised beds, which have been very productive, and we have been able to assess what grows best in some challenging windy conditions.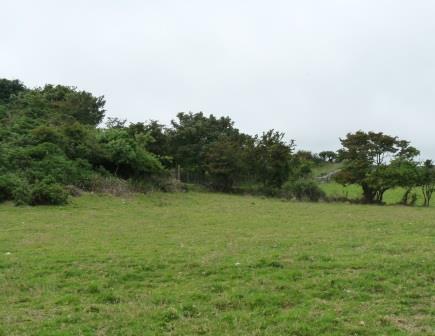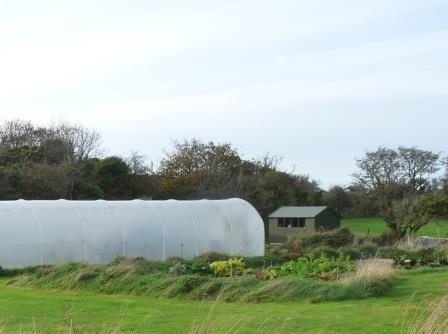 There has however been so much going on that we don't know what has happened to the year.
Arrivals and departures…
Arrivals
One of the most exciting aspects of the year has been the arrival of various new members of our family. The first significant arrival was that of our piglets. Numbers One and Two were Oxford Sandy and Black weaners and were 8 weeks old when we picked them up from the breeder on the island. They were boars who settled quickly into their new home in the Pig Field (note the imaginative nomenclature). They started with a small pen and we gradually extended the field until they had most of it. They did a fabulous job of clearing the bindweed!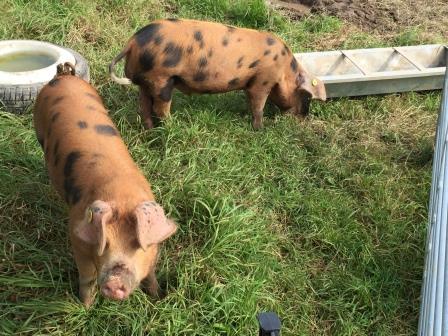 The next arrivals were 12 Soay sheep. We opted for Soays, which are Hebridean, as they are hardy and can pretty much look after themselves. We picked them up from Macclesfield and had a long drive with the trailer. We had agreed to take 8 ewes and 4 castrated rams, with the aim of using them to cut the grass. The lawn tractor is great (well, the new one is) but can't cope with the incline. The sheep settled well into their new home. We had our friendly local fencer divide the field up so we can rotate them and they are doing a great job. The next arrival was sheep no. 13! One of the ewes was, unknown to us, in lamb and Felix arrived a couple weeks after the herd arrived. He is named Felix, which is Latin for lucky or happy, as he (1) was not castrated, (2) will provide the source of new lambs when we get a couple of ewes from a different herd and (3) he will not end up in the pot! We have a policy of not naming the animals unless we do, so we also have Friendly, Granny and Daggy-bottom (don't ask!).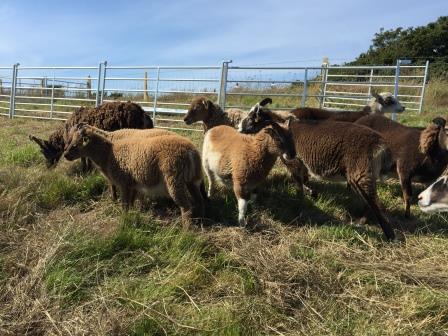 Finally we saw the arrival of Tom and Barbara. Tom and Barbara, born on 26th June, are the two most gorgeous Labrador puppies. Tom is yellow and Barbara is black, but they are from the same litter. They joined us in early September. Both are thriving – hard work but a joy! Their names are pretty obvious. We were given such a ribbing about living the Good Life that there was no option but to name them after Tom and Barbara Good! The picture is the latest one of them. Tom has just been 'done' and Barbara is wearing a cone in sympathy.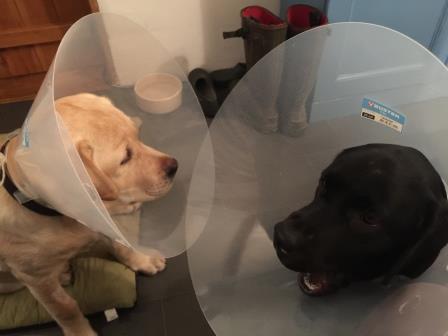 Departures
We have sadly lost three chickens over the year but still have eight who are very happy and healthy but being rare breeds eggs are rare!
One of the hardest things we did was to take Numbers One and Two to slaughter. Being boars it is recommended that they are killed no more than six months after birth due to boar-taint. This apparently occurs when they hormones start to race around as they become sexually mature. We always knew that if we wanted to live this life then we would have to cope with this aspect of smallholding. Anyway, we took the pigs to the abattoir at Denbigh and picked them up the next day and left them with the butcher to prepare. They are now in the freezer and what we have had so far is delicious, especially when served with all our own vegetables! Visitors to Cae'r will be able to partake in some of the produce and the next pigs arrive in a couple of months' time.
The preparation of Suzi's treatment room is moving on and soon the therapy business will be up and running. It promises to be a calm and peaceful retreat, just the ideal place for top quality holistic therapies. 
One of the key elements we are looking to do is to be as self-sufficient as possible. We are on mains water but also have a well that apparently provided water for over a century. We would like to use the well water and maybe even look at a borehole to make us even more self-sufficient.
Through the good offices of the Centre for Alternative Technology we have also looked at what we can do in terms of energy usage and efficiency. Watch this space…
Finally, as English on Anglesey we wanted to do as much as we can to integrate and have therefore started learning Welsh. We are doing the Wlpan course every Friday morning at Cemaes. It is hard work but great fun and lovely people, too. Bendigedig!
My, how time flies! It is amazing to think that we have now been here for more than two months and we are now in 2015! Happy New Year, everyone!
In the run-up to Christmas and the arrival of various special guests we were determined to get the 'Library' up and running. This room will be a place with lots of our books, pictures, Elvis (more of whom later) and the piano. It will also double as our dining room and the B&B breakfast room.
The room had been formerly the dining room, but was hampered by a reconstructed crog-loft, that was not usable, but which seemed to dominate the whole space. We were keen to remove it and get the place opened up. On 16th December it was decided to get it as complete as possible by Christmas.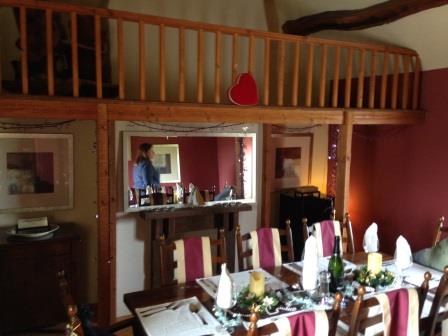 We cracked on. I was delegated with the demolition work (note to readers – don't try this yourself - unless you go to the hardware store and get lots of power tools, hammers, chisels and saws – and, of course, a workbench!!!)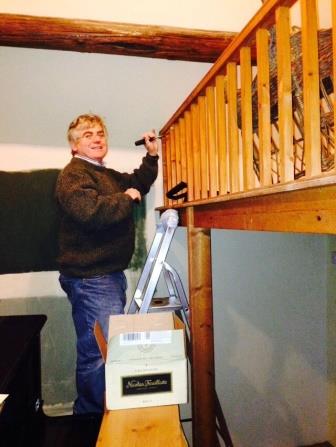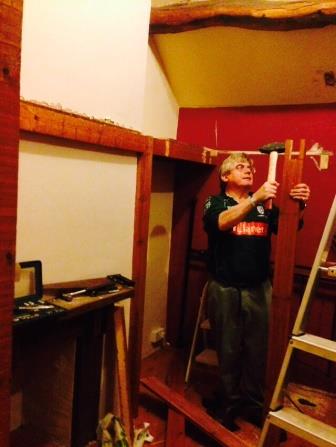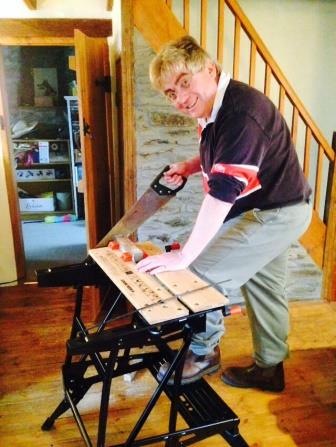 Suzi worked on the décor, selecting the colours and doing the majority of the painting, and the acquisition of curtain poles, soft furnishings and other furniture, as well as supervision and direction.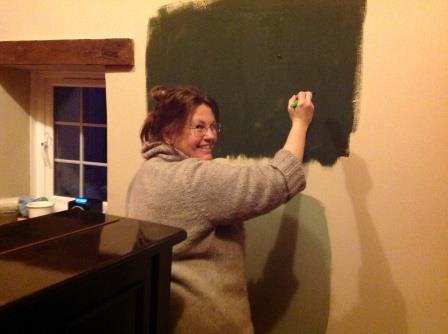 There was also a chance to get some of our pictures out and cleaned ready for display. Having had stuff in store for ages, it was good to see them again.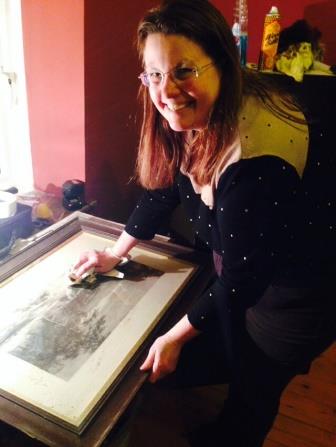 When we moved in the room was used as store, so the first job was to get the room cleared, so the boxes were moved again – admittedly with some unpacking!
It was a frenetic time – barely time to get some Christmas shopping done or a game of Spider Solitaire (which is the Cae'r Bryniau equivalent of Angry Birds).
Mother-in-law arrived on 23rd and was roped into hanging curtains and supervising the hanging of Elvis.
Elvis is more correctly Michael Jackson. Confused? You should be…
Michael Jackson is a fine stag, shot at Ardross in Scotland in 1911 by A G Grenfell, Suzi's Great Grandfather. After many years of hanging in one location in Cheshire he suffered an ignominious fall from the wall and broke his nose.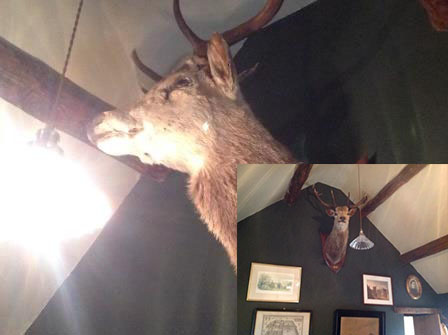 It was only after corrective nose surgery by the talented Jones' that he was complete again, although hr doesn't quite look his old self… hence the Jackson handle. Unfortunately someone who cannot be named kept mixing Michael with Elvis (well they are both dead singers, I suppose) so he will be forever Elvis!
We completed the majority of the work on Christmas Eve and somewhat later than usual put up decorations on Christmas morning.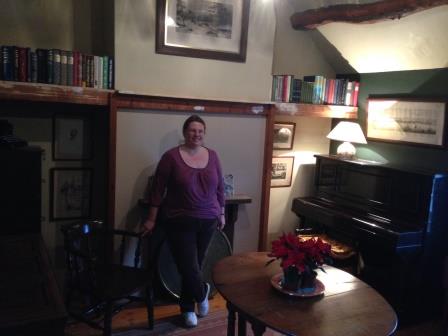 We also woke up Santa and he took up residence in his new home.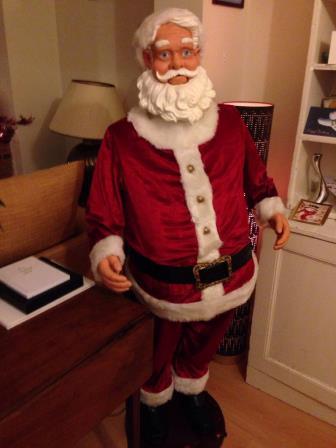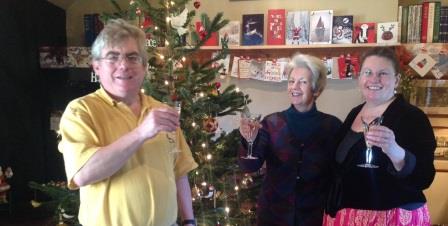 Christmas and New Year was a lovely time of food, friendship, walks and recharging the batteries. The daily duties of chicken husbandry are hardly a chore, except when the wind is so cutting that you can feel it slicing through you. We knew that Anglesey is windy, but our first winter has been very windy indeed!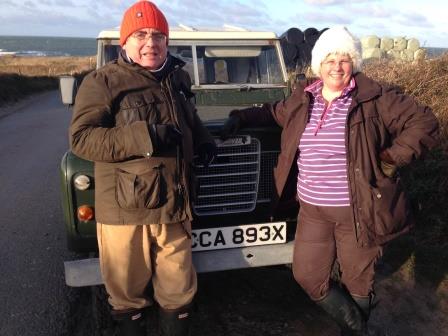 Talking of wind, the preparation for the polytunnel has been going steadily. The location was very important because of the prevailing wind and after lots of standing out in different weathers we chose a spot on the eastern side of the site, sheltered from the prevailing wind by a rocky outcrop. Having sampled the winds, it'll be fingers crossed! Finding gaps in the weather I have now got all the foundations posts in ready for the hoops, which is the next job.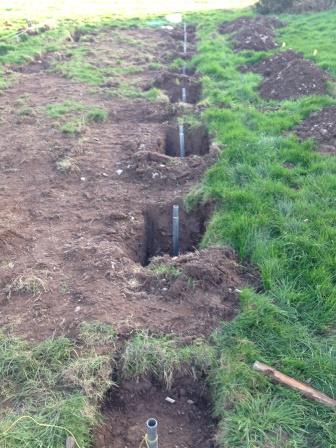 Instead of being put into hibernation until next year, Santa wanted to be closely involved with the works. We found him with his Hi-Viz on ready to get outside, but his DIY skills are a bit dodgy, so he was over-ruled!
We are looking forward next week to the installation of a fireplace in the Library – the chimney sweep had a difficult job getting it cleaned and the contents of the chimney included a nest and a desiccated jackdaw!
Next time I will give an update on the chickens and the problems of an aggressive cockerel! This morning, however, it looked as though one of the hens had metamorphosed into a pheasant – apologies for the blurry picture. Now, where's the rifle?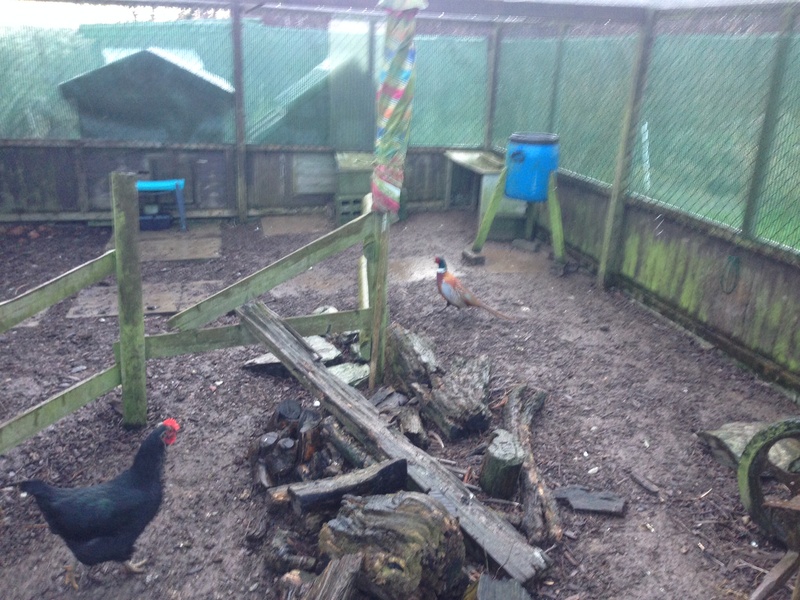 /